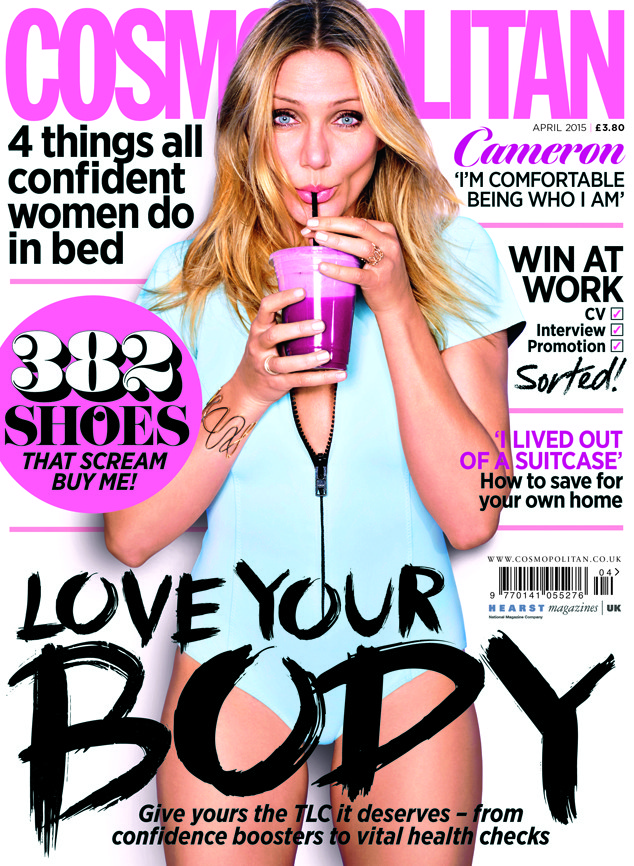 Matthias Vriens-McGrath/British Cosmopolitan
Get it, Cameron Diaz!
It's no secret that the blond, blue-eyed bombshell has one of the most enviable bods in Hollywood, so it's also no shocker that she was chosen to grace the cover of Cosmopolitan U.K.'s April 2015 "Love Your Body" issue.
The 42-year-old actress flaunts her killer gams and famous curves in a variety of photos for the magazine, but also gives some tips to those who wish for a trimmed and tone body by promoting a healthier lifestyle. Yes, you can do it.
Matthias Vriens-McGrath/British Cosmopolitan
"You have to just do it. Once you commit and really put in the effort, your body goes, 'Oh, it's not OK to be without this.' People say, 'My body rejects exercise.' No, it doesn't. Your mind rejects exercise," the newlywed tells the mag.
Another healthy activity you should do often? Sex (yeah, we know, it's not always up to you). "It's something healthy that we need to be doing for many different reasons," Cameron frankly states.
And don't worry about those cheat treats. As long as you don't go overboard, it's all good!
Matthias Vriens-McGrath/British Cosmopolitan
"Well-being is an equation. Remember, you don't have to have the whole cake, you can have a piece," Diaz says. "Don't deprive yourself. Have fun. Just be self-aware. If your equation is 80 percent good, 20 percent bad most of the time, then a little movement toward the center isn't going to affect you much."
There is something The Other Woman star thinks is bad for you, and it's much worse than a piece of dessert.
Matthias Vriens-McGrath/British Cosmopolitan
"I think social media is a crazy-ass experiment on society," Diaz, who quit social media in 2014, admits. "The way people use it to get validation from a bunch of strangers is dangerous. What's the point?"
This issue hits newsstands tomorrow!
PHOTOS: Cameron Diaz's best looks!