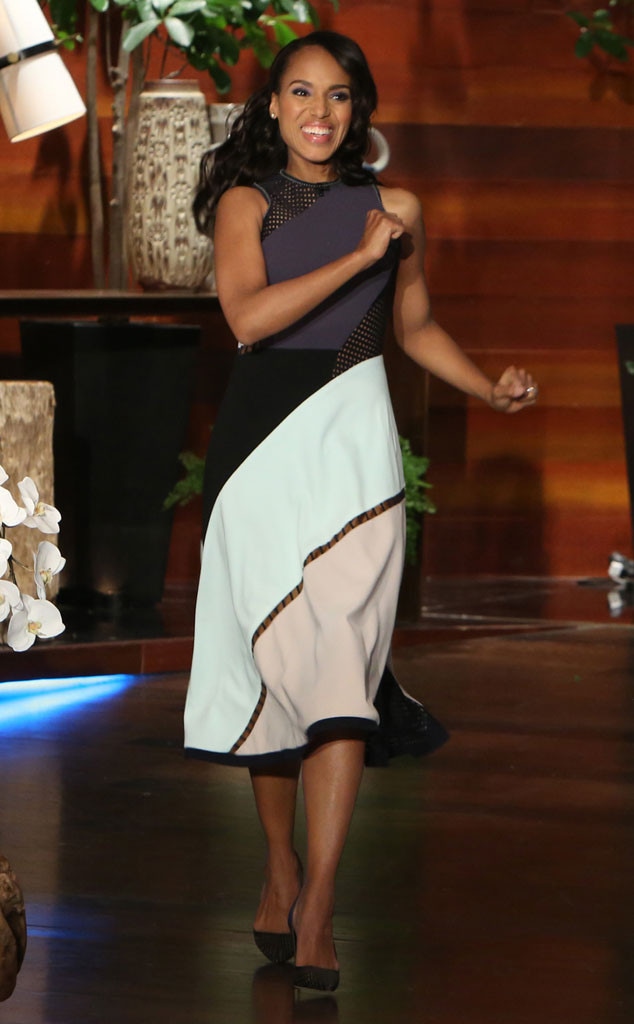 Michael Rozman/Warner Bros.
No scandal here!
I can exclusively reveal that Kerry Washington will be honored with the Vanguard Award at this year's GLAAD Media Awards in Los Angeles.
The LGBT media watchdog group gives the award to media professionals who have made a "significant difference in promoting equality." Previous honorees include Jennifer Lopez, Charlize Theron, Drew Barrymore, Antonio Banderas, Janet Jackson and Kristin Chenoweth.
"Throughout her illustrious career, Kerry Washington has consistently brought to life characters that encourage acceptance of LGBT people," GLAAD's president Sarah Kate Ellis said in a statement. "Her outspoken support for equality, both here at home and abroad, has sent messages of hope and empowerment to fans all over the world, fostering dialogue that builds understanding and helps moves hearts and minds."
Lloyd Bishop/NBC/NBCU Photo Bank via Getty Images
Ironically, the internet used to swirl with lesbian rumors about Washington because she's so private about her personal life.
"It's interesting how much people long to fill in the gaps when someone in the public eye doesn't share their personal life," she told the Advocate in November 2013. "I understand their frustration. I like how people will post pictures of me with other women that I adore, hugging on red carpets, and say, 'See?' Are we so uncomfortable with love between two people of the same gender that we immediately label it as sexual? But I've never been bothered by the lesbian rumor. There's nothing offensive about it, so there's no reason to be offended."
As I first told you, Channing Tatum will also be at the gala to present the Stephen F. Kolzak award to openly gay director Roland Emmerich.
The 26th annual fête will be held March 21 at the Beverly Hilton Hotel.