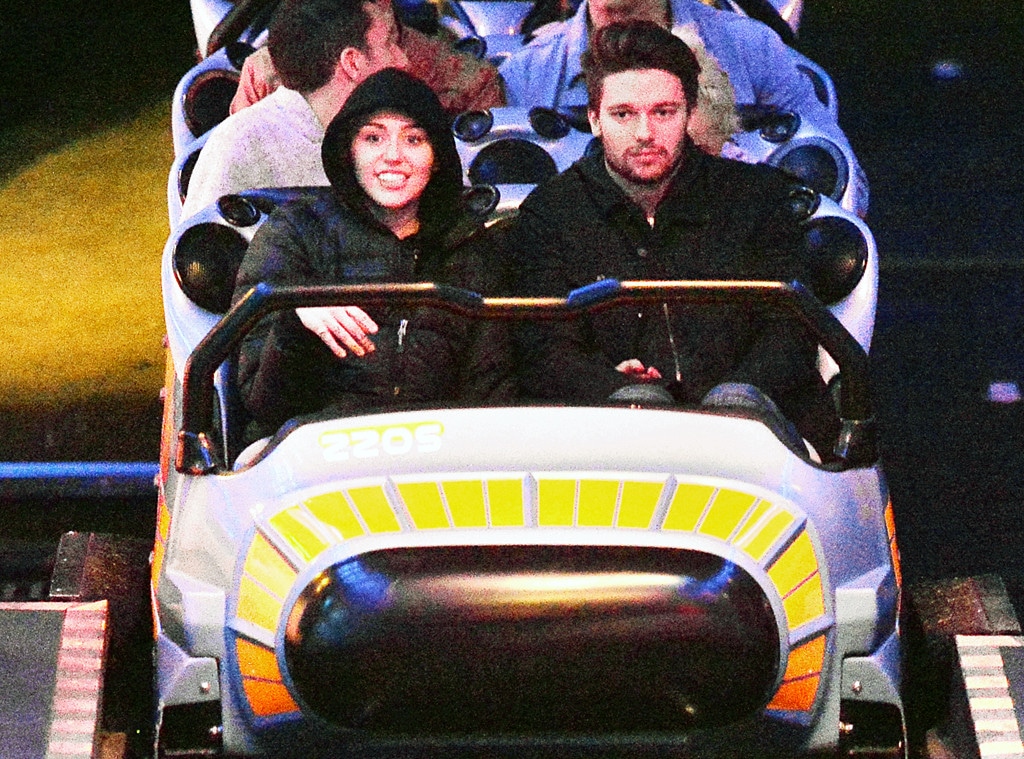 Sharpshooter Images/Splash
It's a party in the happiest place on Earth!
Miley Cyrus and Patrick Schwarzenegger braved stormy weather Saturday afternoon when they traveled down to the Disneyland Resort for a thrilling date night in Anaheim, Calif.
Joined by Noah Cyrus, the pair was spotted getting the full Mickey experience by riding Buzz Lighyear Astro-Blasters, Radiator Springs Racers and California Screamin'.
Oh, and did we mention Miley got a giant hug from Pluto?!
"Reuniting with Pluto. Long time no see," the former Hannah Montana star captioned on Instagram. "Home"
As one can expect, some park visitors couldn't hide their excitement when they spotted the pair strolling through Main Street and other popular areas of the park. The group got there around 6 p.m. and stayed until midnight.
Along with all the rides they got on, the foursome tried to go on some Fantasyland rides like Teacups, Dumbo and Alice in Wonderland but were ushered away due to the fire on It's a Small World. Darn! They were also accompanied by VIP tour guides who would take them past the line and Disney provided them with two personal bodyguards.
The guides took them backstage at one point to avoid fans. They all feasted on chicken nuggets, popcorn, churros and Dole whip pineapple floats. They dined at the Blue Bayou next to Pirates of the Caribbean.
Miley and Patrick enjoyed their night out together, showing off occasional PDA and stealing a smooch when they could. An eyewitness tells E! News, "The two were very happy, having a blast."
In fact, photographers spotted the couple holding hands as they boarded Space Mountain. "Disneyland is actually the best place on earth," Patrick wrote on Twitter after his visit.
Sounds like a successful date night to us!
The Hollywood twosome, who first went public in November 2014, appears to be happier than ever as they continue to spend plenty of time together.
"I have seen Miley with Liam and other boyfriends but honestly, I have never seen her look as loved up as this," an insider recently told E! News. "This is more than just a fling."
Another source added, "They might seem like an odd pairing, but they are quite good for each other. They've been friends forever."
Originally published on Sunday, Mar. 1, 2015 at 5:29 p.m.