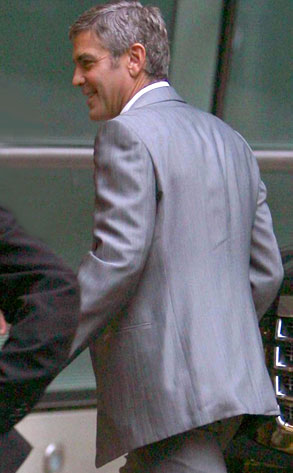 Jae Donnelly/INFDaily.com
• George Clooney arrives at the spot of Beyoncé's wedding, but just to tape The Charlie Rose Show on a different floor. Ouch. Nothing says "you're totally not invited" like riding in an elevator full of revelers while you're off to work.

• In other Clooney news, people are hating on his girlfriend Sarah Larson, reportedly leaving messages on his voice mail telling him to "dump the bitch." He tried to trace the call, but came to a dead end. Phew! Um...we mean...
• Fergie says she downs shots of vinegar because it helps flush out fat and control cravings. And it goes great with Josh Duhamel's diet plan of rolling around in fried cod.

• Cameron Diaz has reportedly been seen canoodling with 300 star Gerard Butler. So that's who Cameron's future ex-boyfriend is.

• Idol Gives Back drives the message of charity home by having do-gooder Brad Pitt appear on the show to talk about charity—a speech no one can hear over the wild din of the audience's collective orgasm.

• Victoria Beckham appears in Marc Jacobs ads sucking on leather gloves and looking like she's going to make out with a purse. Were these photos shot for the ad, or does Posh just really, really like accessories?