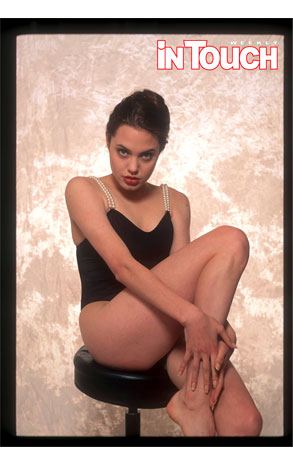 InTouch Weekly
Four kids, three adoptions, a humanitarian bent and long-term (by Hollywood standards) union with Brad Pitt don't erase the fact that Angelina Jolie, 32, has always been one vampy vixen.
So we were less than shocked to see these photos surface from a sultry shoot in Brentwood, Calif., in March 1992, when she was 16 years old.
And no less surprised to hear in an accompanying video interview that a then-young Angie enjoys boxing, fencing and fighting with her boyfriend. Oh, and she aspires to create a weapons room in her home to store her vintage artillery collection. (This is the girl who wore a vial of Billy Bob Thornton's blood.)
What is more shocking is how long it took the photographer, Sean McCall, to broker a deal with In Touch. A roll of film featuring a bikini-baring Angie isn't the sort of thing you forget in the attic. Unless you've been out of the country...for a really, really long time.