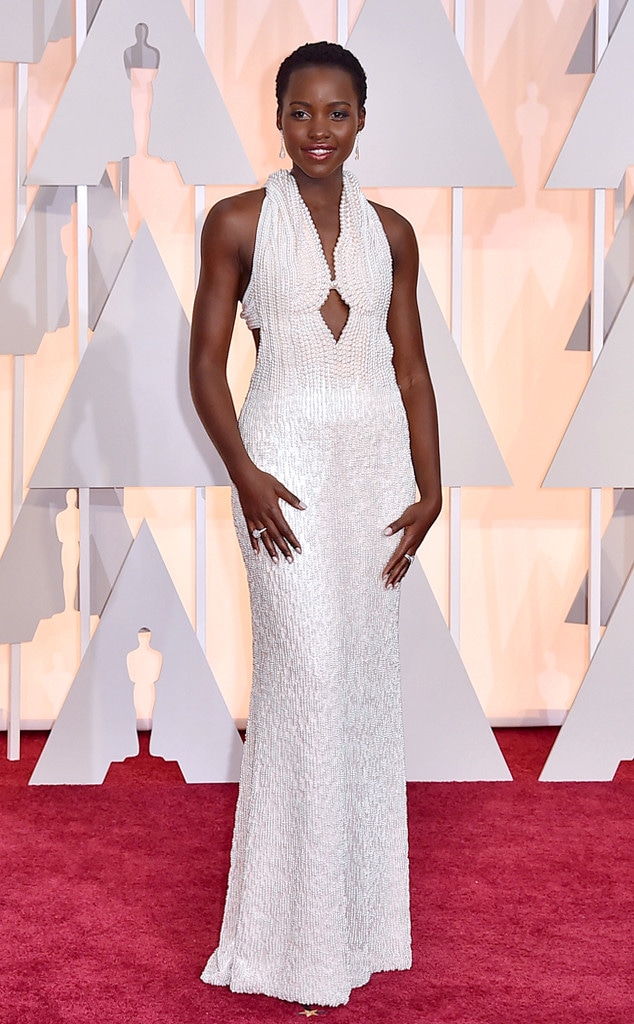 Jordan Strauss/Invision/AP
Lupita Nyong'o's stolen Oscars dress has been returned to the scene of the crime.
In what might become one of Hollywood's weirdest heists, E! News confirms that the custom Calvin Klein Collection dress made of over 6,000 pearls (that she just wore on Sunday) has been returned to The London Hotel in West Hollywood, where it was originally taken.
The L.A. County Sheriff's Dept. stated that at approximately 3 p.m. today, West Hollywood Detectives received a call from a media representative, informing detectives they had received a call from an anonymous caller with information in regards to the stolen Calvin Klein dress. The caller advised detectives that it could be located in an abandoned bathroom on the second floor of the hotel.
Detectives responded to the area mentioned in the call and located a black garment bag underneath the counter. Inside the garment bag was a white dress resembling the one worn on Oscar night by Nyong'o.
TMZ, who first reported the story, said they were contacted by the thief who alerted them of the gown's return.
The mystery gown-grabber apparently took a few pearls off of the CK creation and went straight to the garment district in downtown Los Angeles to see how much they were worth. To his unfortunate surprise, he was told the pearls were fake.
So, he put the $150,000 gown in a bag, took it back to the hotel and opted to call TMZ because he wanted the world to know about "Hollywood's fake bulls--t."
Detectives will work with the owners of the dress, to confirm if that is the actual dress, and have explained that the authenticity of the pearls will not affect the ongoing investigation.
At this time no one has been arrested.
"All of us at Calvin Klein are thrilled to know that the dress has potentially been located," Francisco Costa, Women's Creative Director of Calvin Klein Collection, who designed the dress, said in a statement to Women's Wear Daily. "This was an amazing collaboration between the brand and Lupita and the dress looked truly exquisite on her. Once it's returned to us, we will be able to have the dress restored and archived, as it now represents an important moment for the brand."
"Collaborating with Francisco for my Oscar dress this year was such a special and unforgettable experience," Nyong'o added. "I'm happy that it has been potentially recovered. It is a timeless and priceless piece of art."
—Reporting by Holly Passalaqua