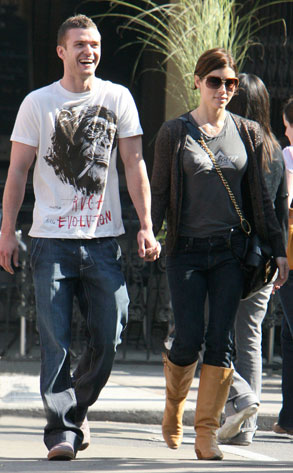 O'Neill/White/INFphoto.com
For anyone who bought into the rumor that Justin Timberlake was over girlfriend Jessica Biel (courtesy of a lingering crush on Kate Hudson), allow us to set the record straight:
Justin was in full-on kissy-face mode with lady love Jessica in the lobby of powerhouse Hollywood talent agency CAA on Wednesday night, according to an exclusive report from our spies.
As the couple hung with friends, Justin kept nuzzling her neck and giving her kisses, at one point he even picked up her hand and gently kissed it. (Chivalry lives on!)
Blame it on a J.T. contact high, but Jessica sported a smile so big and bright that we got suspicious. Could they be celebrating something? Well, we saw no rings on fingers. No baby bumps, either.
But Jess did tell her friends that she and Justin had been skiing this winter in Salida, Colo., where her mom lives.
Meeting the folks? Oh it's serious all right!