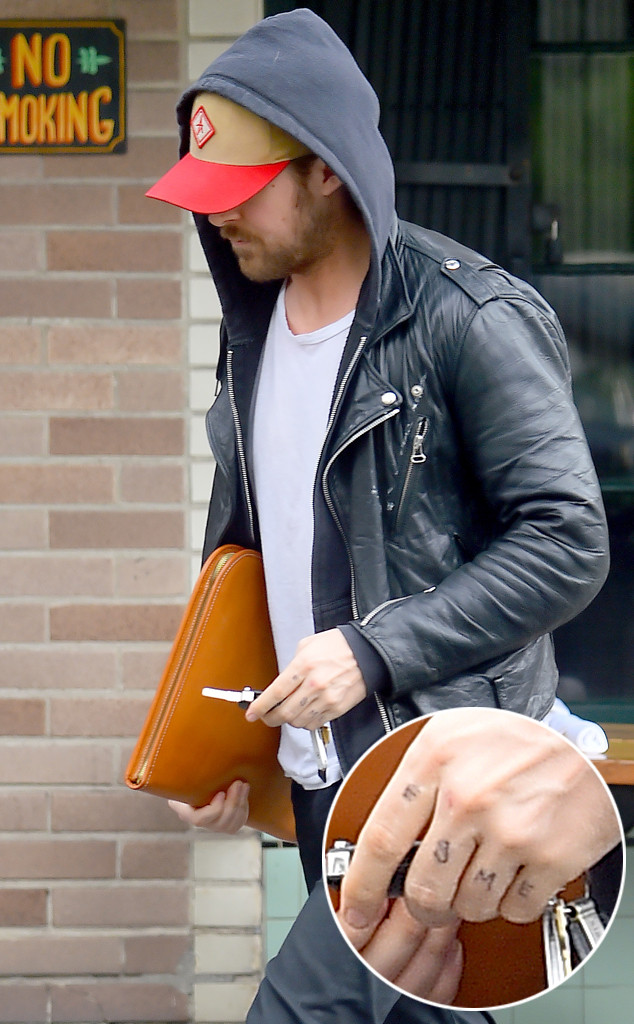 Fern / Splash News
It's safe to say Ryan Gosling probably has baby daughter Esmeralda Amada on his mind at all time, but now she's also on his hand!
The 34-year-old actor stepped out in L.A.'s Los Feliz neighborhood earlier today with Esmeralda's name inked on his left hand.
While we're not sure if it's a real permanent tattoo or just writing from a pen, Eva Mendes' other half was photographed with the nickname "Esme" written across his four fingers. How precious?! In addition to the namesake writing, Gosling looked hunky per usual in dark pants, a white shirt and a hoodie with a motorcycle jacket. The scruffy star kept his head down under a baseball cap while leaving Little Dom's restaurant with a folder.
Sharpshooter Images/Splash
Gosling and Mendes welcomed their daughter back in September. Not long after the birth a source told E! News the cute couple picked the name Esmeralda Amada because it means "beautiful emerald" in Spanish. Additionally, Mendes wanted first and middle names that represented her Hispanic heritage since their daughter has Gosling's surname.
"Amada" in Spanish can also mean "beloved," "adored" and "dear." Coincidentally, Mendes also played a character named Amada Juarez in the 2007 film We Own the Night.
In addition to the adorable baby name, an insider recently dished to E! News, "Ryan sings to the baby. He loves it. Sometimes he'll make up his own songs and include her name in them. It's very sweet."