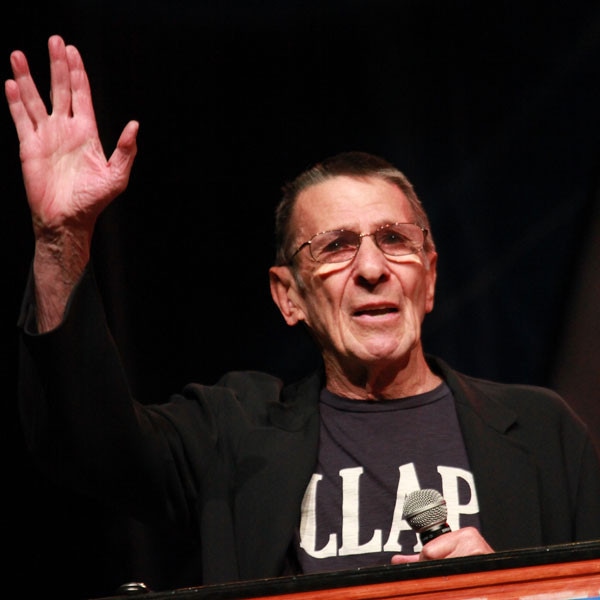 David Livingston/Getty Images
Leonard Nimoy will be remembered for more than his iconic Star Trek role.
The fan favorite actor, who died at age 83 on Friday, is best known for playing Mr. Spock on all three seasons of the original Star Trek series in the '60s. He also played the role in an animated series, on Star Trek: The Next Generation, on two episodes of The Simpsons, in video games and in 10 films, including eight based on the characters in the flagship show and in the rebooted Star Trek and the 2013 film Star Trek Into Darkness, which marked his last movie. 
Nimoy also worked behind the film camera on another beloved film and wielded a different one as a hobby. He was proud of his religious heritage. And like his onscreen character, for many, he served as a voice of reason, wisdom and, well, logic.
Check out seven fascinating facts about Nimoy.
1. Nimoy came up with Star Trek's Vulcan salute, which was inspired by a Jewish tradition
Spock is half human and half Vulcan, a pointy-eared, cropped-eyebrow alien species native to a planet of the same name and known in the Star Trek franchise as the ones who made First Contact with people on Earth.
Vulcans base all decisions on pure logic, making them somewhat stiff in nature, and also greet and bid farewell to each other with the Vulcan salute, in which a person separates their fingers on one hand into three parts, with the ring finger flush against the pinkie.
And Nimoy was the one who came up with it. The actor, who was born in Boston and was the son of Yiddish-speaking Orthodox Jewish immigrants from the former Soviet Union, based it on the famous Priestly Blessing that Jewish Kohanim perform during religious services.
Spock has displayed the Vulcan salute numerous times, both off-screen and in Star Trek movies.
He also displayed it while greeting reporters at the Hollywood premiere of Star Trek Into Darkness, which he attended with his wife Susan Bay. The couple had celebrated their 26th wedding anniversary this past New Year's Day.
Nimoy is also survived by a son and daughter, who are from a previous marriage.
2. Words of wisdom and inspiration
Judaism's Priestly Blessing calls for good health and prosperity. Spock is known for several Vulcan catchphrases, such as "Fascinating" and, most famously, "Live long and prosper."
Nimoy uttered the latter line while making an inspiring speech at a 2012 convocation ceremony at Boston University. The actor, who received an honorary degree at the graduation event, also gave the Vulcan salute.
During his speech, he spoke about his Star Trek character, saying, "He was the embodiment of the outsider, like the immigrants who surrounded me in my early years. How do you find your way as the alien in a foreign culture?"
He also made a solemn request from the students.
"You are the creators and the curators of your own lives," he said. "You create your own life and your work. Give us your best. Give us the best of your art. We crave it. We hunger for it. Help us to see ourselves, to know ourselves. Illuminate our lives."
Nimoy, who spoke carefully and eloquently, was often praised for his intelligence and wisdom.
In 1968, just a few years after the official end to racial segregation in the United States, a fan who was the child of a black mother and white father, wrote a letter to the magazine FaVE, addressed to Mr. Spock, as seen on Buzzfeed. The person talked about how they feel "persecuted" and don't fit in among either black or white kids, adding, "I guess I'll never have any friends."
"I know you are half Vulcan and half human and you have suffered because of this," wrote the person, who signed the letter L.C.
Nimoy offered the fan amazing advice from the point of view of his character.
"[Spock] said to himself, 'Not everyone will like me. But there will be those who will accept me just for what I am. I will develop myself to such a point of excellence, intelligence and brilliance that I can see through any problem and deal with any crisis. I will become such a master of my own abilities and career that there will be a place for me. People of all races will need me and not be able to do without me,'" Nimoy wrote. "And that's just what he did."
"And when I see him standing there on the bridge of the Enterprise, facing danger and life-and-death problems so coolly and with so much intelligence, I'm sure he made the right decision."
3. He was a war veteran and a scholar and worked several odds jobs before he became an actor
Nimoy served as a sergeant in the United States Army for two years in the '50s. During the Korean War, he was a member of the Third Army Band, also called the Ground Forces Band. He served as one of its announcers, according to the Kentucky Daily News.
Nimoy had before his military service taken a few drama classes at Boston College. At age 18, he moved to Los Angeles to pursue an acting career.
I told my Dad I'm going to be an actor. He said I'd be palling with gypsies and vagabonds. They'll all be at my party this weekend. LLAP

? Leonard Nimoy (@TheRealNimoy) March 24, 2011
Nimoy also studied photography at UCLA and obtained a master's degree in bilingual education from Antioch University in 1978. In 2000, he was given an honorary doctorate of humane letters from the college's Ohio branch for his activism in the arts, the environment and in remembrance of the Nazi Holocaust. The school's president presented him with the degree in person at his family's home in California.
Also during his early days in Los Angeles, Nimoy also studied and performed at the Pasadena Playhouse theater. The actor made his big screen debut in the 1951 film Queen for a Day.
He was nominated for four Emmy Awards throughout his acting career. He received three nods for his role in the Star Trek the series and one for his performance in the 1982 TV biopic A Woman Named Golda. Nimoy played the husband of iconic late Israeli Prime Minister Golda Meir.
4. He used to co-own a pet store
Star Trek marked not only Nimoy's breakout role, but his first big steady job. Two months after it ended its run, Nimoy became the co-owner of a pet store called Pet Pad in the county's San Fernando Valley.
He told The Ocala Star-Banner in 1971 that he had invested in it as "a sort of therapy, something to keep me busy." He soon returned to acting, nabbing a regular role on the series Mission: Impossible for two years.
In the past, to make ends meet, Nimoy also sold life insurance, vacuum cleaners and worked as a driver, according to The Milwaukee Sentinel.
5. Nimoy directed 3 Men and a Baby
Yes, the actor was the one who helmed the popular 1987 family comedy, which starred Steve Guttenberg, Ted Danson and Tom Selleck as three roommates who end up looking after an abandoned baby girl.
Nimoy had also served as a theater and TV director and also helmed Star Trek III: The Search for Spock and Star Trek IV: The Voyage Home.
6. He was a photographer
Nimoy's photos, usually of people, have been displayed in many museums, such as the Los Angeles County Museum of Art, the Jewish Museum of New YorK and the Museum of Fine Arts in Houston. Last year, several of Nimoy's photographs were put on display at the Sherman Gallery at Boston University. (See examples of his work.)
"I've been doing photography in one form or another for, oh golly, over 70 years," he told MIT's newspaper The Tech. "I'm 83 old and I started when I was about 10."
7. Nimoy cried watching that Star Trek death scene as well
The death of Spock in the 1982 film Star Trek II: The Wrath of Khan remains one of the most heartbreaking onscreen movie moments of all time. It shows Captain Kirk, played by William Shatner, rushing to Spock, who is enclosed in a closed glass chamber filled with radiation, having sacrificed his life to save the crew of the U.S.S. Enterprise starship.
"I have been, and always shall be, your friend," Spock tells Kirk, placing his hand against the glass and giving the Vulcan salute. "Live long and prosper."
"I got all choked up," Nimoy said In a 1984 interview with The Spokesman-Review. "I was crying right along with everyone else in the theater."