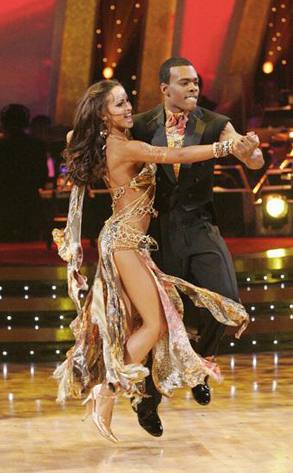 ABC/KELSEY McNEAL
A confident Mario Lopez assures everyone he is not at all concerned about his spicy girlfriend, Karina Smirnoff, leaving him to dance permanently with her current DWTS partner Mario Barrett—no matter what the rumors are.
In fact, Lopez and the other Mario chatted it up on Ryan Seacrest's KIIS-FM morning show and kept it totally cool (at least on air).
Ryan: Mario [Lopez], how do you feel when you watch Mario [singer] rub up against your girl?

Mario Lopez: The dances are all—they're like characters, and they're all telling a story. I think he's doing a great job, and I'm really proud of him. Listen, I've met him and I've hung out with him. He's a great guy—really respectful, really cool, and I'm glad Karina got him as a partner. And I think they're gonna go all the way [on Dancing With the Stars] and they're gonna do great.

Mario [singer]: [Mario and I] met early on the show when we were rehearsing. We cool, we kick it...[Karina and I are] just having a good time. It's a blessing 'cause I'm a singer and [Karina]'s a dancer at heart, and I think we respect each other's passion.
Let's be honest. Is there really any competition here? Mario the singer may have some chart-topping musical hits, but we'd much rather dance the night away with A.C. Slater anyday!