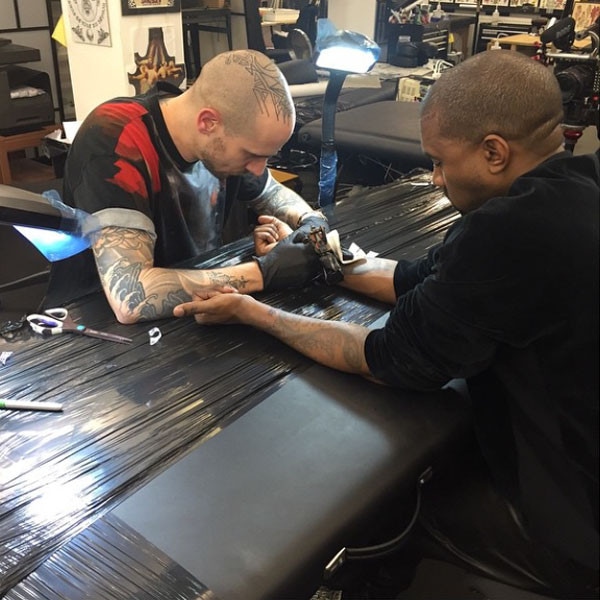 Instagram
Kanye West decided to honor his late mother, Donda West, and daughter North West at four in the morning...of course.
The "Flashing Lights" rapper got two tattoos, Nori's birthday and his mom's birthday, to solidify his love for two of the most important people in his life. His wife, Kim Kardashian, captured the moment in several pics and posted them to her social media pages for the world to see.
In one picture you can see Yeezy hanging out with his wrists up while the London-based tattoo artist works on his right wrist.
"Four in the mornin' and he's zonin'," Kim captioned the pic, referencing the Yeezus rapper's hit, "Black Skinhead."
But apparently before he decided to ink his wrists, Kim's husband wanted to get the permanent tributes put on his face! Attaching a photo of Kanye's neck tattoo, Kim tweeted, "I talked him out of getting a face tattoo...for now."
Not that our opinion matters, but please, Yeezy, keep them off the face!
When all was said and done, Kim tweeted a pic of her husband's completed tattoos, explaining, "He got it on his wrists instead. His mothers birthday and North's birthdate in Roman numerals."
Nori's dad has been paying tribute to his late mom and daughter lately, not only with the tattoos but also with his hit song "Only One" that also features Sir Paul McCartney. Its lyrics were penned from the perspective of his mom, who died at 58 in 2007 after undergoing plastic surgery.
Sample lyrics include "Hello my only one / Just like the morning sun / You'll keep on rising till the sky knows your name / And you're still my chosen one / Remember who you are / No, You're not perfect but you're not your mistakes" and "Tell Nori about me / Tell Nori about me / I just want you to do me a favor / Tell Nori about me."
A statement released by record company Def Jam explained that while Kanye and McCartney were "vocally sketching," the rapper felt his mother came through him to ultimately inspire the song's lyrics.
"Kanye sat there with his family, holding his daughter North on his lap, and listened to his vocals, singing, 'Hello, my only one...' And in that moment, not only could he not recall having sung those words, but he realized that perhaps the words had never really come from him," the statement read.