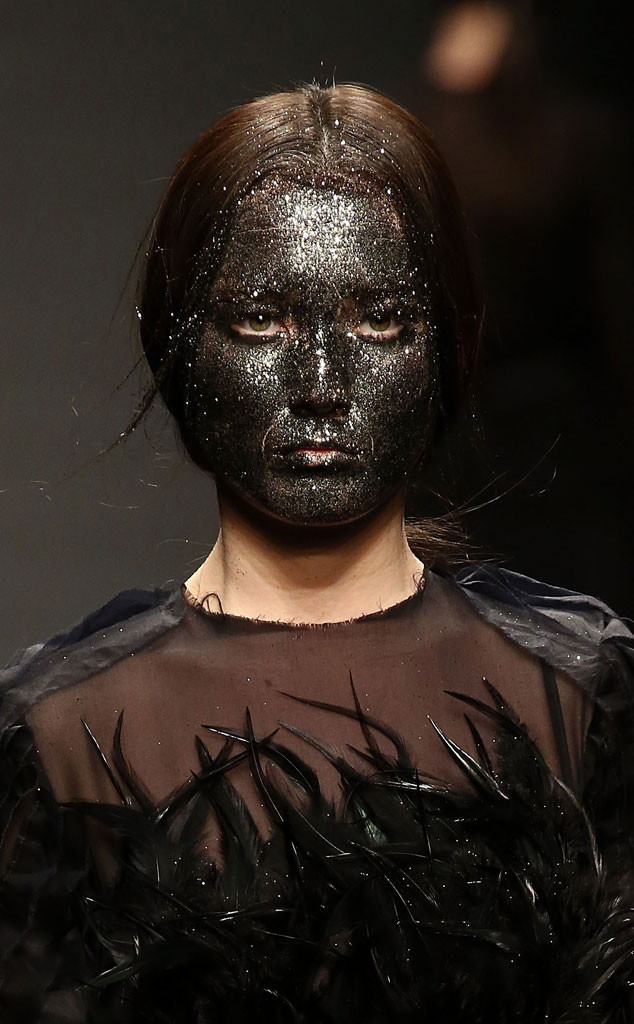 Andreas Rentz/Getty Images
UPDATE: Designer Claudio Cutugno tells E! News:
"I think is a pleasure to have the chance to answer the cricism about the make up I decided to use. Anyway just to be clear: the collection was inspired by Emilio Isgrò artworks. He was literally erasing parts of the text of some books, he was putting some black ink on top on some words he wanted to erase so to let some words come out from the text and be underlined. As well as this, in ancient Greek, the meaning of the words that were underlined was related to the tradition of wearing black veils around the heads when women needed to say goodbye to their husbands. This also today is a tradition which in Sicily is used when women go to burials. So the black make up we decided to use was actually a translation of the black veil. I chose not to use the real veil because I did not want to cover the whole faces of the models. I did not even wanted to refer to the bees Isgrò is using in his artworks: someone said I wanted to represent the faces "as they would have been swarmed by bees" but to me that idea would have not been cohesive with the whole creative process behind the collection and above all pretty cruel. I am extremely sorry if many people thought this make up would result offensive and also that I am racist, but that was not my intent. I am extremely respectful of the afroamerican culture and extremely sorry for each type episode of racism. Furthermore my inspiration was coming from a completely different idea which has nothing to do with the theme of afroamerican culture. I would have never tought someone could have find the make up offensive, otherwhise I would have never used it."
______________________________________________________________
And here we thought flashing men's penises on the runway was pushing it...
A designer decided to take things to a whole new level for a show during Milan Fashion Week when he had models walk the catwalk in blackface. Yep, you read that right.
Claudio Cutugno presented his collection with models in sparkly blackface makeup (because apparently glitter makes it less offensive?) on Feb. 24 as part of his all-black themed show that featured sheer blouses and feathered embellishments, among other things.
Fashion and beauty websites were quick to take notice of his controversial decision and questioned why the heck he chose to do this.