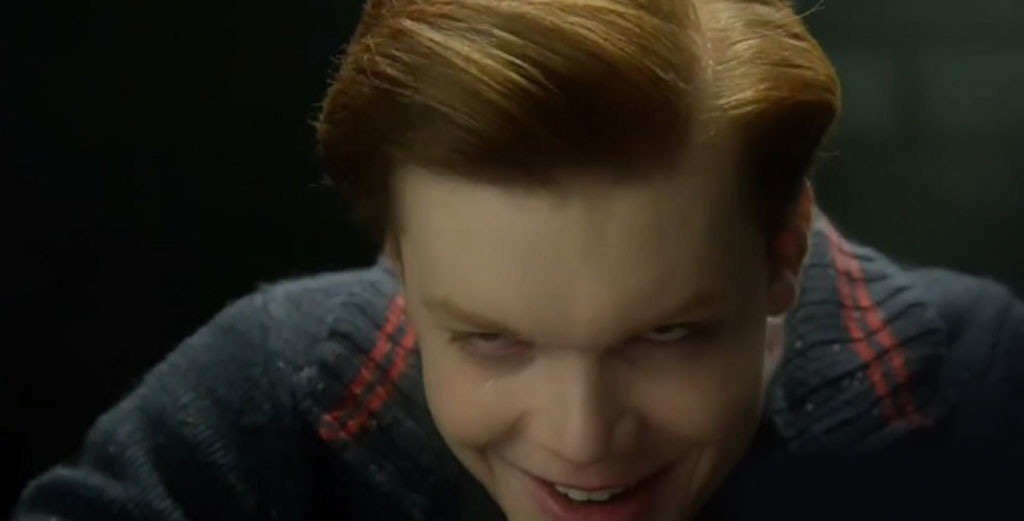 FOX
After Cameron Monaghan's final scene on Gotham, there's no question that his character Jerome is actually the Joker...right?
After Jerome pretended to be a sweet and innocent young man all episode long, mourning his mother who was brutally murdered, Det. Jim Gordon (Ben McKenzie) figured out that it was actually Jerome who killed her in the first place. When he confronted Jerome in an interrogation room in the GCPD precinct, Jerome dropped his vulnerable act, and showed his true colors as a maniacal, sociopathic murderer who felt no remorse over the matricide.
He even laughed about in a very familiar, crazy cackle! So is Jerome the Joker?
E! News' own Marc Malkin caught up with McKenzie at the Film Independent Spirit Awards to get the scoop on Gotham's mysterious Joker.
"We had a possible Joker in the last episode, Cameron from Shameless," McKenzie said. "He did a wonderful job. It's one of those things we sort of leave out and see if we come back to it or not. He's possibly going to be the Joker because it's an origins story. We...have a couple of possible people who could be the Joker."
Maybe Jerome isn't the Joker now, but that doesn't rule out him becoming the Joker in the future.
"He's just a kid at this point who has killed his own mother, so he's clearly a little disturbed," McKenzie said. "And he's grown up in the circus so he's got a sense for the theatrical and he has the red hair and the requisite maniacal laugh. He kills it."
Gotham executive producer Bruno Heller previously told E! News that Jerome is just "the beginning of the Joker saga."
"It's the beginning of the story of how the Joker came to be, how the Joker was created, where he came from, who he is," Heller said. "Now, that doesn't necessarily mean that Cameron Monaghan is the Joker. He might be. But like I say, this is a story that begins about seven or eight years before the actual Joker arrives on the scene in his fully-fledged persona."
Heller promised us that the Gotham writers weren't pulling a fast one on fans by introducing this Joker-like villain in Jerome.
"I can tell you this is a long game plan and a long story that we are telling here," Heller said. "What I can promise you is this is not a bait-and-switch. This is not someone who is just a character who is going to disappear. This is not a red herring."
Gotham airs Mondays at 8 p.m. on Fox.
- Reporting by Marc Malkin