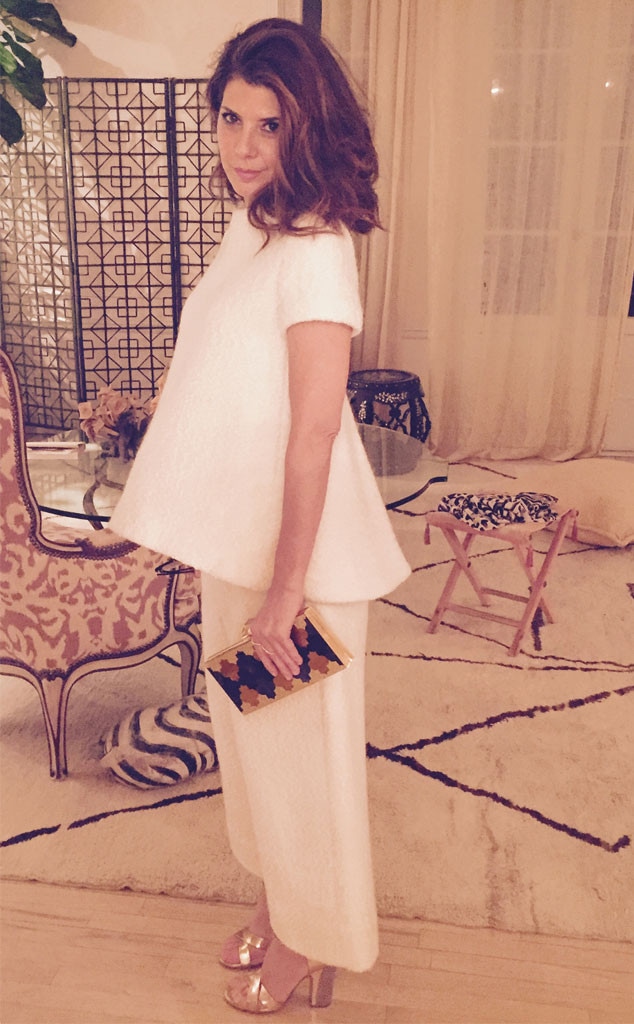 Tina Turnbow
To get red carpet-ready, it takes a village...plus celebrity makeup artist Tina Turnbow. 
The E! Style Collective member works with such clients as Keri Russell, Taylor Schilling and Patricia Arquette. But she spent this past Oscars weekend glamming up actress Marisa Tomei.
Here, we go behind the scenes with the makeup maven. The beauty guru breaks down Marisa's looks for the CAA Oscar Party, the Independent Spirit Awards and the Vanity Fair Oscar Party and muses about the ultimate perk of her job.
My Oscars weekend was full of good times and beauty fun. Part of the reason was because I worked with the beautiful, very talented Marisa Tomei.
I had the opportunity to be a part of a great team brilliant—with hairdresser Christian Marc and lovely stylist Anita Patrickson—to get her ready for the event-filled weekend.
When I landed in LA on Friday, I swiftly headed over to Marisa's gorgeous pad and set up a work spot in her dining room. I was supposed to start my makeup duties, but I just wanted to stare at all the great art that surrounded me. Marisa has the most impeccable taste in art, furniture and fashion.
On the agenda for the evening was the fun CAA Oscar party. The outfit for the night was by Co, a two-piece comfortable, cream-colored creation.
I had done some colored smoky eyes in the past that put an extra sparkle in Marisa's eyes. We wanted to add a little pop of color to the all-cream ensemble.
First I used my go-to Laura Mercier Radiance Primer and then Chantecaille Just Skin Tinted Moisturizer.
Starting with the inner rim of the eye and close to the lash line, I used Laura Mercier Long Wear Eye pencil in Cobalt then smudged Sapphire Caviar Stick all around into the crease and outer corners of the eye, creating an almond shape, which just enhances what nature gave her! I curled and coated her lashes with COVERGIRL Fantastic Lash mascara.
The cheek and lip was a soft flush of Tata Harper Lip and Cheek stain in Very Nice.
She went off to a very nice night feeling beautiful!
The Independent Spirit Awards was the next afternoon. She was attending and introducing a clip from her movie Love Is Strange, which was nominated for Best Film.
For her look that day we thought something fresh and daytime would be appropriate. The two-piece outfit by designer Roksanda Ilincic was really cool and perfect for an indie spirit kinda day.
It had stripes of orange and blue down the side, and of course that and the orange shoes inspired my choice in a lip color. That day Urban Decay had sent me some delicious new sheer lip colors. They're called sheers but in the Urban tradition, still packed some pow. I chose the citrusy Sheer Slowburn. 
And then I focused on a good eyebrow using Nars Brow Perfector pencil and brushed them with Bobbi Brown eyebrow gel in Rich Brown. Then a pop of Coral Glow blush stick by Laura Mercier. Voilà—fresh, natural and ready to go. 
But not before a bite to eat! I'm always in awe of how healthy Marisa eats. It could be part of the reason her skin is always smooth and glowing. She drinks lots of natural, raw juices, eats lots of veggies, avocado and whole grains. I've noticed that clients who eat lots of avocado always have amazing skin!
On Oscars Sunday, my first stop was actually to spend some glam time with the awesome and beautiful Leslie Mann. Double the fun! I then headed to make up Marisa, who was going to be attending the Vanity Fair Oscars soiree that evening. 
When I got to Marisa's, her apartment was full of gorgeous jewels, shoes and clothes...it was a wonderland of stylish goodness.

By the time we started getting ready, the Oscars were on TV. We would take breaks and watch. We caught Patricia Arquette as she accepted her award and gave her very sincere and powerful acceptance speech. The outfit of choice was a cool navy one-shouldered jumpsuit by Azzaro. After trying all different ear bobs and cuffs, a beautiful eclectic mix of earrings were chosen. The star of the earring mix was a gorgeous emerald by Henri Sillam. And, yes, you guessed it...my makeup inspiration!
I started with a kohl eye pencil by Laura Mercier in Antique Jade, then blended Armani Shadow Eye Tint in Emeraude #4 on the outer corners and lower lash line. I used Armani Eye to Kill Mascara to enhance her lovely lashes. 
Maybe something about the mood of the evening made me choose "Tipsy" blush by Tarte. Also, it's just a gorgeous color! 
I kept the lips neutral and soft. I smoothed Colbert MD Illumino Body Oil on her arms and décolleté for a luminous glow. Then I snapped a few pics of her, while listening to her great choice in music.
As I was about to take off for the airport that night, Marisa reached over to give me a big hug and thanked me for being there. 
On the plane, I gazed out the window of my red eye flight, content to know the work I do is full of beauty that goes deeper than meets the eye.