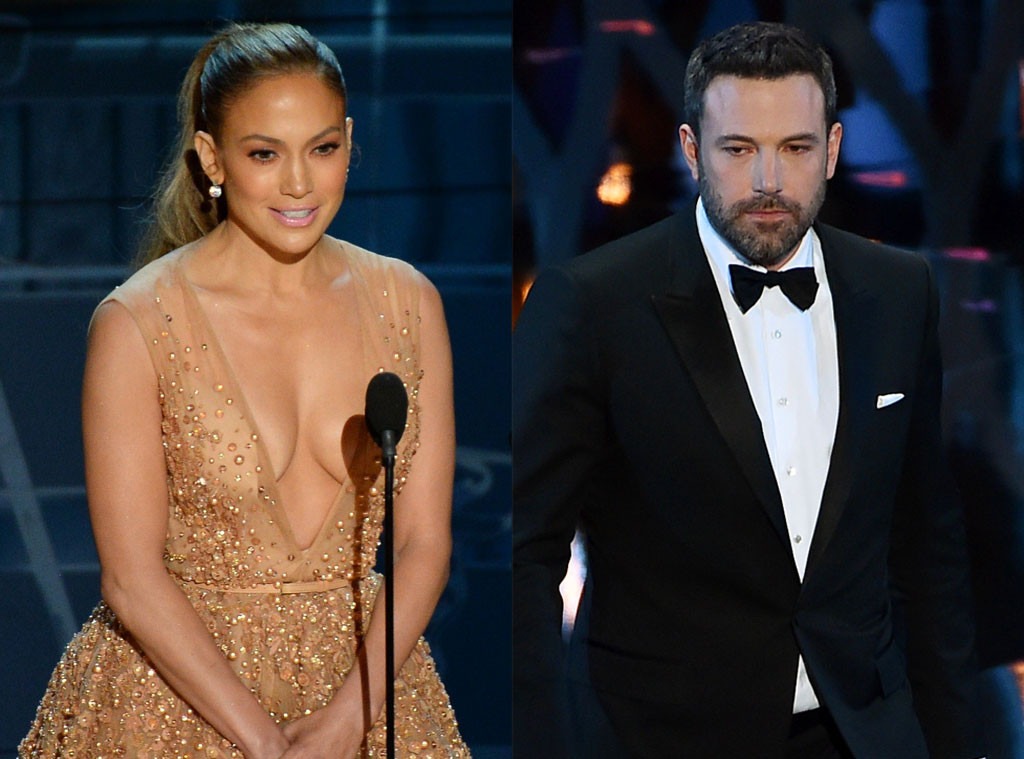 Getty Images
For some celebrities, attending the Oscars means navigating their way through a minefield of exes. For Ben Affleck and Jennifer Lopez, however, it felt like old times.
During the 87th Annual Academy Awards, the exes had a brief, off-camera reunion during a commercial break. After Laura Poitras's Citizenfour won the award for Best Documentary Feature, Affleck walked over to Lopez, who was seated in the front row. According to ABC News, Affleck whispered something into Lopez's ear, and she playfully smacked his arm. After reuniting with Lopez, Affleck moved down the aisle and whispered something in Best Actor nominee Bradley Cooper's ear. The American Sniper star didn't slap Affleck, however.
Neither Affleck nor Lopez were nominated for awards; instead, they presented.
Kevin Winter/Getty Images
Affleck and Lopez, who co-starred in the famous flop Gigli, were engaged from 2002 to 2004. Three weeks after calling off her engagement to Affleck, Lopez reunited with her ex-boyfriend Marc Anthony. The Latin stars married in June 2004 and later welcomed twins, Max and Emme. Affleck, meanwhile, began dating his Daredevil co-star Jennifer Garner in 2004. They got married in June 2005 and later had two daughters, Violet and Seraphina, and a son, Samuel.
In 2014, Lopez talked about her breakup with Affleck on Today. "It was probably my first big heartbreak, and to have one of my best friends who I'd known for years, who I actually love and did have chemistry with, come into my life and say, 'I'm here'. What you need to know is, nobody can save you or heal you," she said. "Only you can do that for you."
In fact, Lopez told HuffPost Live that "the whole Gigli era" was her lowest point.
"It was a very badly reviewed film. I was in a high-profile relationship at the time that fell apart in a really bad way, and so the kind of mix of those two things and the tabloid press had just come into existence at the time, so I was like a poster child for that moment," she said. "I was in the tabloids every other week about how my life was falling apart. It was a tough time."
Still, the Boy Next Door star said she had "no regrets" about her time with Affleck. "I would do it all over again, I think. I really would. Even the relationship part." Lopez, 45, added, "I just feel like everything is part of your story and your journey and is meant to be and helps you grow if you're willing to look at it, and I'm willing to look."
Affleck, for his part, has said he's not the same person he was when he dated Lopez.
"People bring up 2003, and I get it. Jennifer Lopez, and Gigli, and all this s--t just kind of blew up. But, you know, in 2003, Barack Obama was a state senator in Illinois! Okay? A lot can happen. And a lot has for me," he told Details in 2012. "Maybe not as much as has happened for Barack Obama! But you know, it really does feel like ancient history."