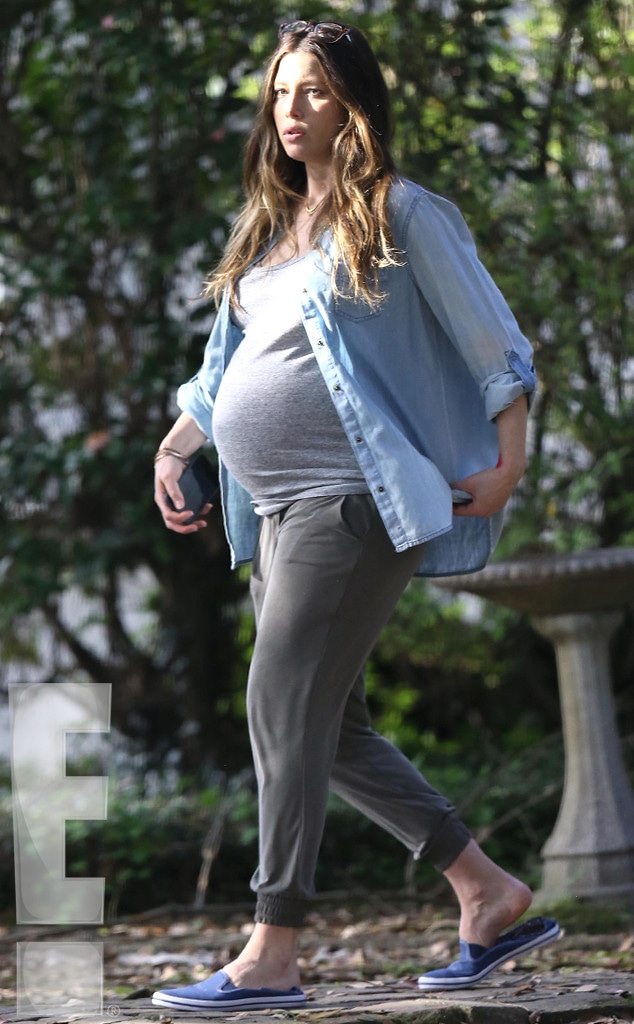 FAMEFLYNET PICTURES
It looks like Jessica Biel is due any day! 
The 32-year-old beauty, who is expecting her first child with husband Justin Timberlake, returned to work last week in New Orleans, where she was snapped on the set of her upcoming film The Devil and the Deep Blue Sea. 
Biel is both starring in and producing the forthcoming film, and clearly, the soon-to-be new mom isn't letting pregnancy slow her down, as she has been photographed regularly flaunting her ready-to-pop baby bump while strolling around on set. 
According to an eyewitness, the brunette beauty, who has been seen dressed down in comfortable clothing, has been "very friendly and sweet to everyone."
"Jessica is not receiving any special treatments," the source tells E! News of the mama-to-be. She "has a very plain car with a driver and besides that walks with everyone else." 
The insider adds that there has been "no signs of Justin Timberlake" although she seems to be "great friends" with co-star Jason Sudeikis, who is surely giving his pal some parenting advice as he welcomed his first child, son Otis, with fiancée Olivia Wilde back in April. 
While in New Orleans, Biel has been staying at a hotel and is often spotted carrying a Whole Foods bag when she arrives to work. 
"She spends very long days on set," the eyewitness says of the pregnant beauty, whom "everyone seems to love." 
In fact, the insider says that Biel "is on set from 6 a.m. to sun down everyday" and has a very "strong work ethic.
"She is very involved in the production process," the source says of friendly actress, adding that she "talks with everyone on set." 
And as evidenced by the plethora of pics (how adorable is her belly?!), she certainly has that pregnancy glow. 
"Jessica looks great, glowing," the source says, "She does not have makeup for her role, but despite no makeup, she looks really really good." 
"She's in her third trimester now and feeling good," a source recently told E! News. "She has stayed active during her pregnancy and tried to get in as much exercise as possible. She loves going hiking or on walks. She also does yoga at home and light stretching." 
In addition to her film and baby-on-the-way, Biel is also gearing up for the opening of her kid friendly restaurant, Au Fudge. 
Talk about a busy and beautiful mama-to-be! 
—Reporting by Michelle Falls