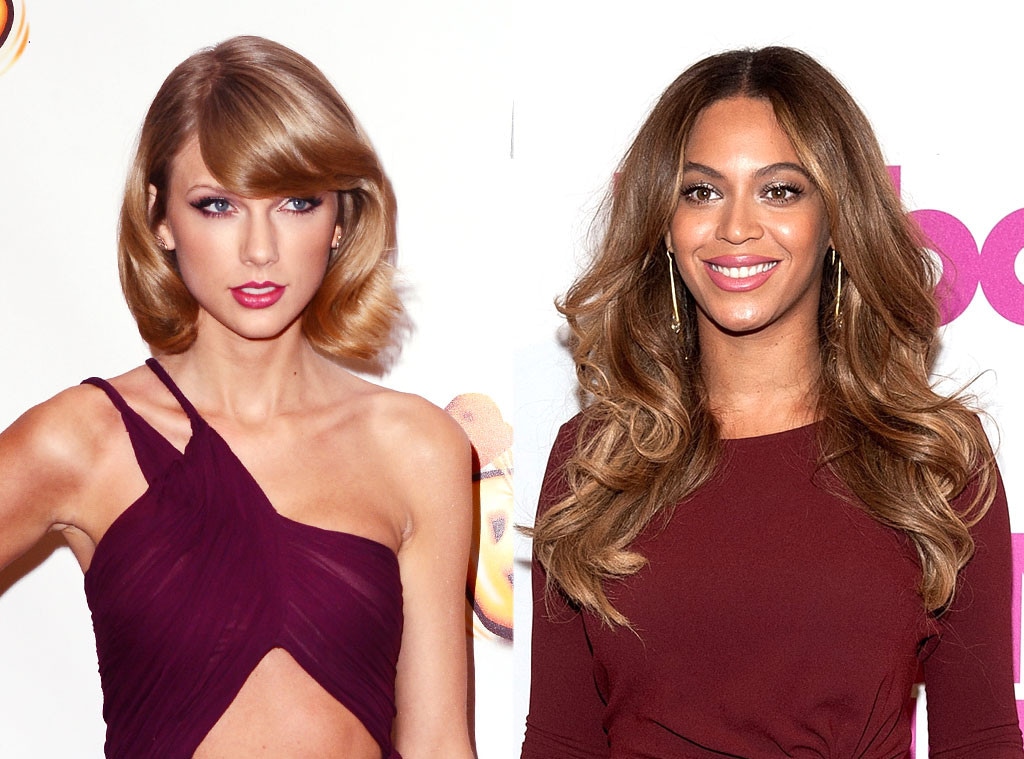 D Dipasupil/FilmMagic; Stephen Lovekin/Getty Images
Taylor Swift should be gearing up to perform at the 2015 Brit Awards on Wednesday, but instead she's too busy fan-girling over Beyoncé! (As is everyone else.)
"I love her more than the normal amount," she dished to KissFMUK.
Throughout the interview, the "Style" singer confessed that she doesn't mind losing out on an award if it means she'll get to be in the same room as Queen Bey; however, the radio show host couldn't confirm whether or not the "7/11" singer would actually be in attendance.
"I try really hard not to like let [my fandom] get creepy," she said. "I just really like channel it into a joyous admiration and appreciation."
Although she joked talked about her love of Beyoncé for some time, T.Swift also dished on what it's really like to be up for an award, especially when you find yourself pitted against your best pals.
"I'm nominated usually against lots of my friends, so you have to—just for the sake of humanity and for the sake of having a good time—legitimately be happy for other people," she explained.
It sounds like she has a really positive outlook on how to handle herself, but having won so many awards, she's probably used to winning more often than she loses! But none of that matters to the country-turned-pop star.
"See, that's the only way that I'll be upset is if we don't get to see Beyoncé," she added. "I won't be upset because I didn't win. I'll just be like, 'I wish that we could see her all the time.'"
The megastar is set to sing "Blank Space" during this year's show, but she previously performed "I Knew You Were Trouble" during the 2013 awards. When asked what has changed for her in the two years that she has been away from the show, she dished that "a lot" is different.
"I have a lot more really good girlfriends," she revealed before joking, "I guess I have a pop album now."
And let's not forget, she has much shorter hair! She chopped her locks after one of her concerts at the O2 arena in England last year.