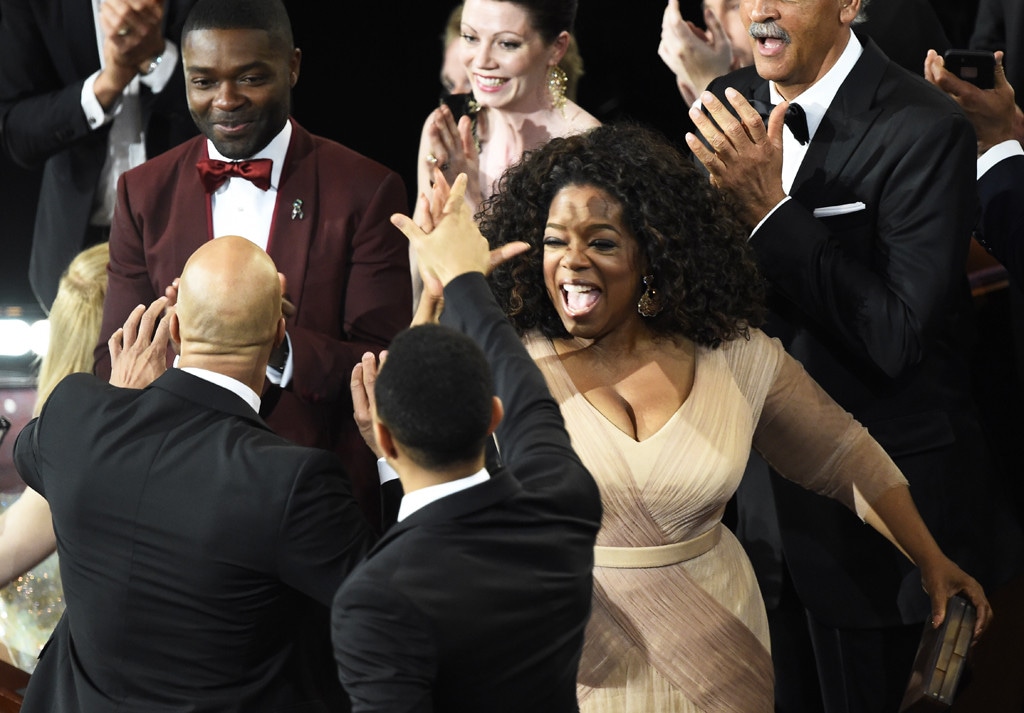 ROBYN BECK/AFP/Getty Images
Move over, Birdman, because your time in the sun is over. It's Oprah's moment now. 
Miss Winfrey may not have actually been nominated for anything at this year's Oscars, but that didn't stop her from totally dominating the awards show. In fact, at times it seemed like there was at least one camera trained on the star at all times, just to catch her every reaction.
And we're all thankful for that. Pretty much everything that Lady O did was amazing—or at least amazingly ridiculous. (Such is the Oprah way, right?). Here's how she won the night...
She skipped the security line.
Good Morning America/ Instagram
Oprah waits for no one. That includes the "security" at the Oscars. The woman's got places to be, OK?
She straight-up ran away from Lady Gaga.
Oprah was not feeling that. She apparently also wasn't feeling Gayle, because she left her BFF in the dust in her quest to get as far, far away from Gaga as possible.
She doesn't even know how rich she is.
To illustrate just how much money American Sniper made at the box office, Neil Patrick Harris made a joke saying "[The Best Picture nominees] have grossed over $600 million. American Sniper alone is responsible for $300 million of that…To put that in perspective, on this side of the theater is the seven other nominees. And American Sniper is Oprah." Then, Oprah gave a bewildered look followed by a shrug, forcing NPH to explain the joke: "'Cause you're rich." Because sometimes you have so much money you just plum forget. 
She got thanked by Oscar nominees.
yahooentertainment.tumblr.com/
When Graham Moore accepted his Best Adapted Screenplay award for his work on The Imitation Game, who did he give the first shoutout to? Oprah. Duh. His exact words: ""Thank you so much to the Academy—and to Oprah—for this." He went on to give an impassioned speech that won hearts and minds, so she's pretty much associated with history now.
Her magical powers can dry tears.
There, there, David Oyelowo. Oprah's here now.
Just...this.
No words, only feelings.
And thus we've proved that it really is Oprah's world. We're just living in it.