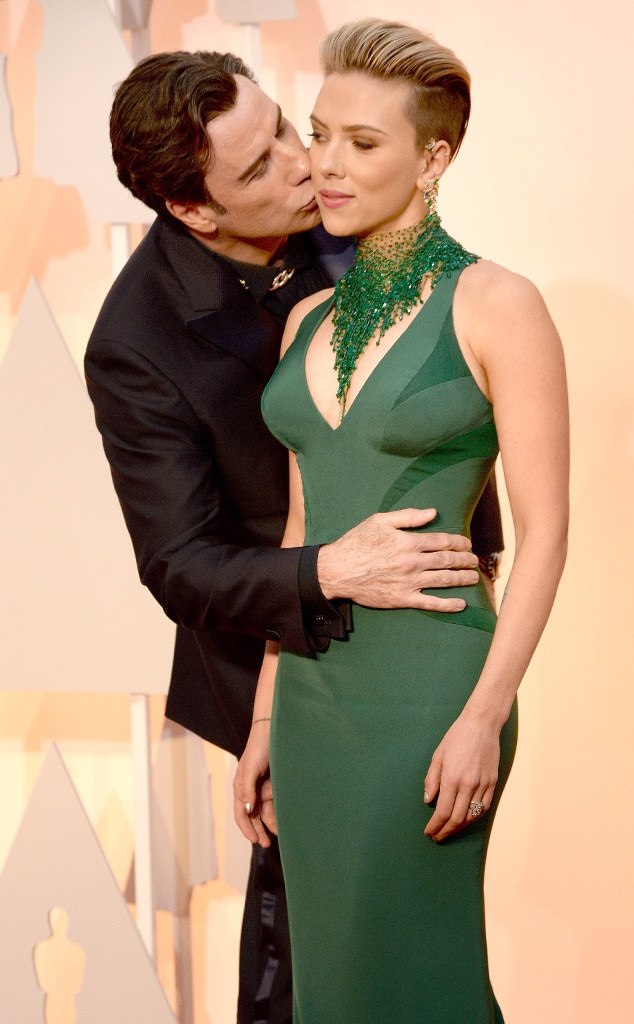 Kevin Mazur/WireImage
Well, this is slightly uncomfortable. 
John Travolta and Scarlett Johansson exchanged a candid moment on the red carpet at the 2015 Oscars on Sunday night at the Dolby Theatre, where the evidence of their awkward encounter was, of course, caught on camera. 
While leaning in to give the blond beauty a kiss on the cheek, the 61-year-old star grabbed the new mom's tummy—she gave birth to a  baby girl just over five months ago—and apparently, she wasn't feeling the gesture, as she proceeded to give the Hairspray star a hearty helping of side-eye. 
Dare we guess what's going through her mind?! 
Of course, the Grease actor and the Her star weren't the only ones who were photographed when they weren't posing for pics. Jennifer Aniston and Emma Stone shared a friendly embrace in their designer duds while Jared Leto made sure to stay dry as he rocked the red carpet carrying an umbrella (can't get that those lucious locks wet!). 
From Ethan Hawke to Gwyneth Paltrow to Benedict Cumberbatch, see all the candid pics at the 87th Annual Academy Awards!