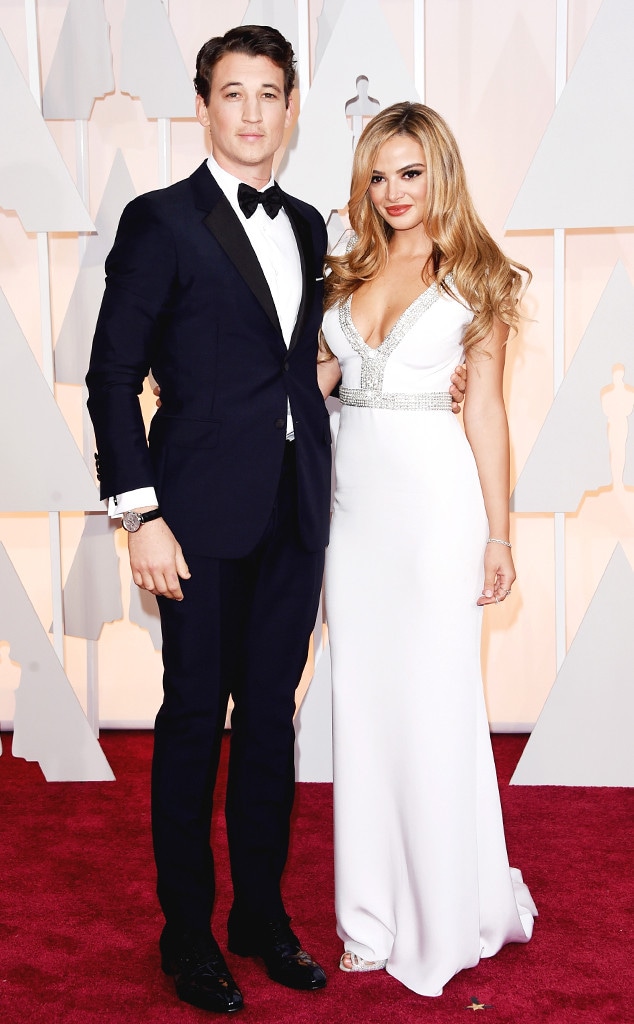 Jason Merritt/Getty Images
And the award for most beautiful couple could just go to this young Hollywood twosome.
Miles Teller and girlfriend Keleigh Sperry turned our heads for all the right reasons Sunday night when they stepped onto the Oscars red carpet together.
While the Whiplash star opted for a classic Prada suit and bow tie, Teller's leading lady dazzled in a white Lorena Sarbu gown.
The Hollywood couple, who have many candid (and romantic) pics on Instagram, have stayed under the radar. However, we learned on Live from the Red Carpet that Sperry's dad totally approves of the relationship.
Romance aside, Teller is thrilled to be attending this year's awards show for his latest movie nominated for Best Picture.
When asked what drew him to the script, it was all about the music.
"My mom raised all of her kids to be musically [involved]. My sisters and I all play three or four instruments so that was always a passion of mine," he explained to Ryan Seacrest. "I never thought I would read a script that dealt with a drummer."
And not just any drummer. Teller knew the team would do an honest portrayal of a "flawed" character. 
"At my age, you don't get those juicy roles until later on in your career. Maybe in your 30s, so I just loved that it was unapologetic," he shared. "I think a lot of movies today are trying to please everyone, and by doing so you lose a strong statement. And I think we weren't judging our characters. They were very flawed, but I just felt  it was the most beautiful script I'd ever read." 
Watch:
Miles Teller Steps Out With New GF at 2015 Oscars