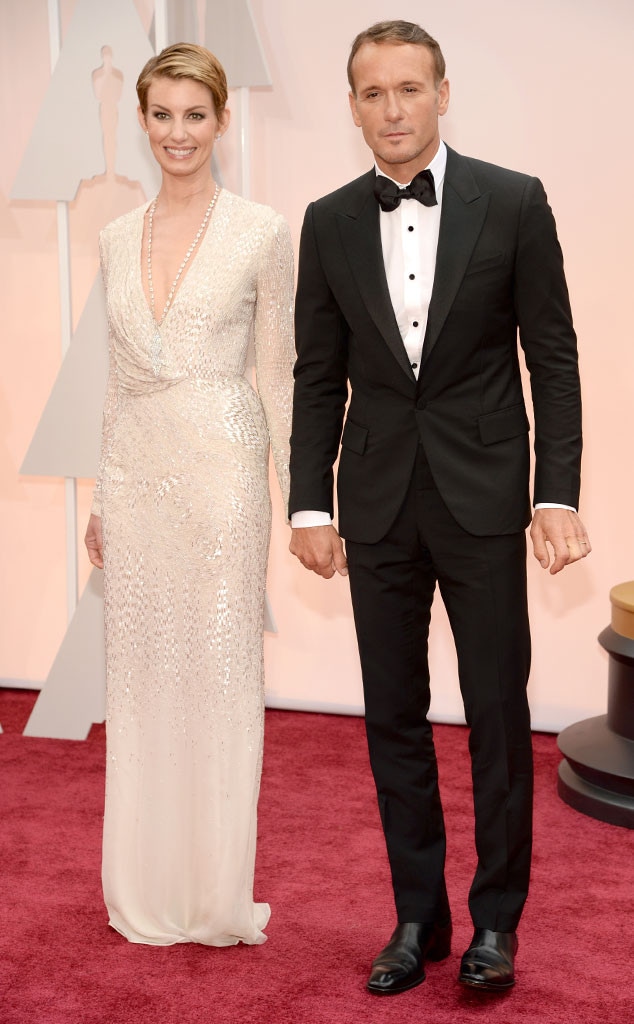 Kevin Mazur/WireImage
The 2015 Oscars red carpet is just getting started, but Tim McGraw and Faith Hill may have already won the Best-Looking Couple award.
The husband-and-wife team turned up to the big event looking absolutely stunning—and almost unrecognizable! Not only did Hill debut an even shorter pixie cut than we've seen before, but McGraw showed up pretty much bare-faced. We've come to expect his signature facial hair (and constant cowyboy hat), so this evening's look made us do a double take. And combined with Faith's plunging J. Mendel number, they're a fashion force to be reckoned with.
In between wowing the crowd, the couple stopped to chat with Ryan Seacrest about Tim's big Oscar performance. He'll be singing his Oscar-nominated song "I'm Not Gonna Miss You" from Glen Campbell: I'll Be Me, a documentary about the late singer. And, even though this isn't his first, ahem, rodeo, Tim is still feeling the pressure of the evening. 
"We were just talking off-camera about how this one makes you nervous," said McGraw. "It's such a big event and there's so many great people out here. And this is a pretty special song. To be asked to do this, and be at this, and with Glen and the legacy he's left in music, it's pretty special."
He also confessed to Seacrest that his nerves get the best of him when he's watching his wife perform, too. "When you see somebody you love up there, it's a lot more," he said. "You're not in control."
That feeling goes both ways, as Faith admitted that she'll be on edge during her hubby's performanc tonight. "It'll be tough in the audience for me," she told Ryan. "Apologies to anyone sitting by me for what I might do."
But that didn't stop her from doling out a few choice words of advice for her main man: "Just hold on. Just hold on and do it!"
Watch:
Faith Hill and Tim McGraw Stun at the 2015 Oscars