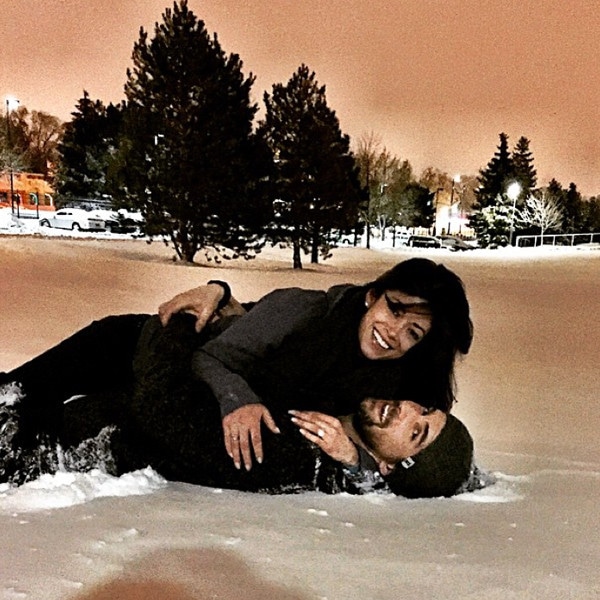 Instagram
Michael Phelps is engaged! And he's announced the happy news in the cutest way.
The 29-year-old 22-time Olympic medalist and swimming champion is set to marry longtime girlfriend Nicole Johnson, Miss California USA 2010. Phelps revealed their engagement late on Saturday via a gorgeous Instagram photo of her embracing and laying on top of him on snow, showcasing a sparkling ring as the two grin from ear to ear.
"She said yes," he wrote.
The two have dated on and off since 2007. Phelps' new fiancée, who is less than two weeks younger than him, shared on her Instagram page a similar photo, showing them in the same position while staring into each other's eyes.
"I'm gonna be a Mrs.," she said.
The photos were taken by Allison Schmitt, who was Phelps' training partner and is a six-time Olympian and champion swimmer as well. She posted a third picture of the happy couple, which features a closer look at Johnson's engagement ring.
Phelps' sister, Hilary, also posted a pic of the couple.
"Sisters!! It's official!! A huge congratulations (and a ton of love) to these two (@nicole.m.johnson + @m_phelps00) on their ENGAGEMENT!" she wrote.
...and the rest of their family raised a toast!
After winning the 2010 Miss California USA competition, Johnson, who is from the upscale community of Westlake Village, north west of Los Angeles, went on to compete in the 2010 Miss USA pageant, coming in ninth place.
 In November 2010, Phelps took a break from training for the 2012 Olympics to join Johnson in Palm Springs, where she took part in the 2011 Miss California USA pageant to hand over her crown to the new winner, Alyssa Campanella.
"I'm here for one reason and one reason only," Phelps told E! News at the time. "Nicole."
This past Valentine's Day, he posted a cute pic of the two on Instagram.
"So lucky to have an amazing valentine," he said.