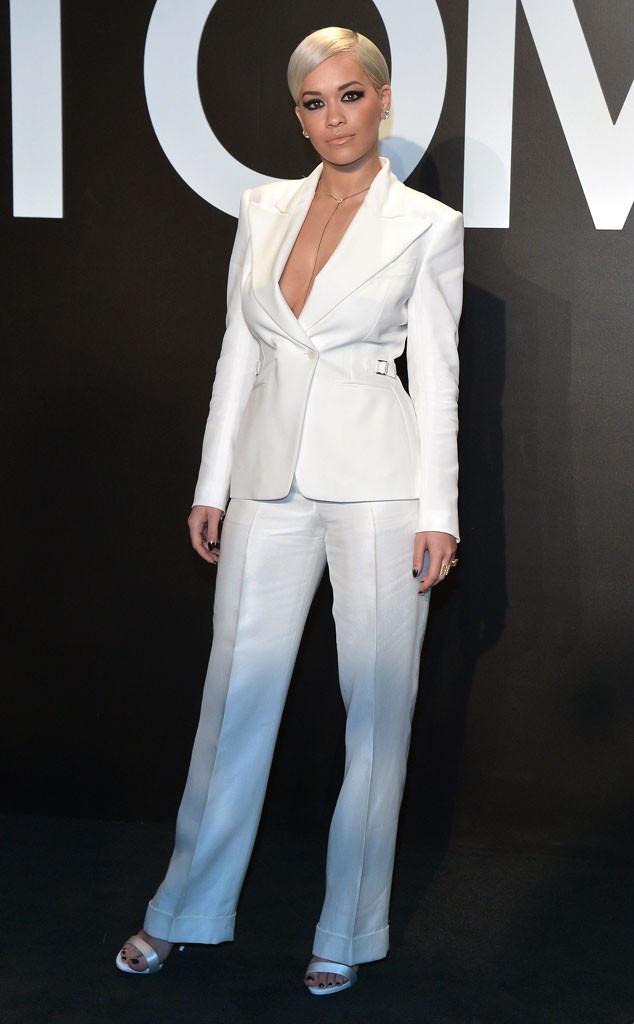 Charley Gallay/Getty Images for Tom Ford
Rita Ora is going to need extra security when she goes to the Oscars later today—and it's just for her jewelry!
"I will have a bodyguard following me around and then as soon as it's done, it's like, 'Take my soul away,'" the pop star told me last night at the Weinstein Company pre-party, where she performed "Play," a song from the upcoming musical Finding Neverland.
Ora will also wear two different dresses throughout the night because she's not only attending the big show, but she's performing "Grateful," the Oscar-nominated song from Beyond the Lights.
Jason Merritt/Getty Images
"In the dress world for Rita Ora, there are two things you have to do: what hasn't anybody done [and] what could I do to make myself feel as sexy as possible," she said. "I'm really lucky to be in a position where I have an amazing team who can design custom from real incredible designers like Vera Wang and Marchesa and so forth."
Though it's nearly impossible not to be thinking about her Oscar performance 24/7, Ora says she's tried her hardest not to.
"I'm very very kind of blank because if I think about it…I start freaking out," she said.
Also performing from Neverland, which opens on Broadway on April. 15, were the show's star Glee's Matthew Morrison and creator former British boy band pop star Gary Barlow. Earlier in the evening, Barlow, Max Irons, James Corbin and Nicole Scherzinger performed numbers from another upcoming musical, Around the World in 80 Days.
Watching the performances at the MAC Cosmetics-hosted affair at the Montage hotel in Beverly Hills were Selena Gomez, Jennifer Lopez, Kerry Washington, Keira Knightley, Oprah Winfrey, Benedict Cumberbatch, Gayle King, Channing Tatum, Jenna Dewan-Tatum, Jennifer Hudson and David Oyelowo.
Vogue editor-in-chief Anna Wintour gushed over Corbin, telling him, "You were amazing tonight!"
(Tune in to Live From the Red Carpet for all your Oscar scoop. Coverage begins today at 1:30 p.m. ET|10:30 a.m. PT. Get additional E! Live Coverage at the E! After Party: The 2015 Academy Awards at 11:30pm|8:30pm ET/PT.)
Watch:
Rita Ora Needs Bodyguard at 2015 Oscars!