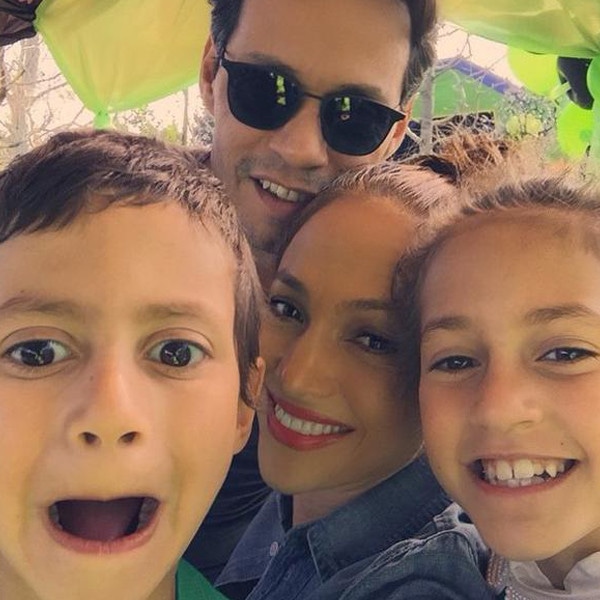 Instagram
Jennifer Lopez and Marc Anthony are ready to "Live It Up."
The friendly Hollywood exes came together this weekend to celebrate their twin's 7th birthday party. Lucky for us fans around the world, the "On the Floor" singer graciously shared a photo from the epic family day.
"Party Time!!! HAPPY 7th BIRTHDAY TO THE COCONUTS!!!," Lopez tweeted with Anthony and their kids Max and Emme showing off funny faces. "#thesetwoknowhowtoparty #Twins #LOVE #familia"
According to a source, the celebration was a Minecraft themed party that included several gaming stations.
The twins and their friends could play on a Samsung Galaxy Tab S as guests wore themed t-shirts and snacked on Minecraft inspired goodies. There was also a giant bounce house and balloons in either black or green. 
It's more proof that Lopez and Anthony hold little to no ill will towards each other, especially when it comes to their children.
While the American Idol judge has admitted to feelings of pain that the fairytale couldn't last forever, Anthony will always hold a special place in her heart.
"There's still love there and I think that's a big statement for people to see," she explained in her HBO documentary. "It says we've moved on and we're healthy…We took this journey and we're better. We survived."
And while Anthony is now happily married to Shannon De Lima, Lopez has no doubts that she will also find someone special sooner rather than later.
 "It's not going to be forever," she shared when discussing her solo relationship status. "Someone great will come along."