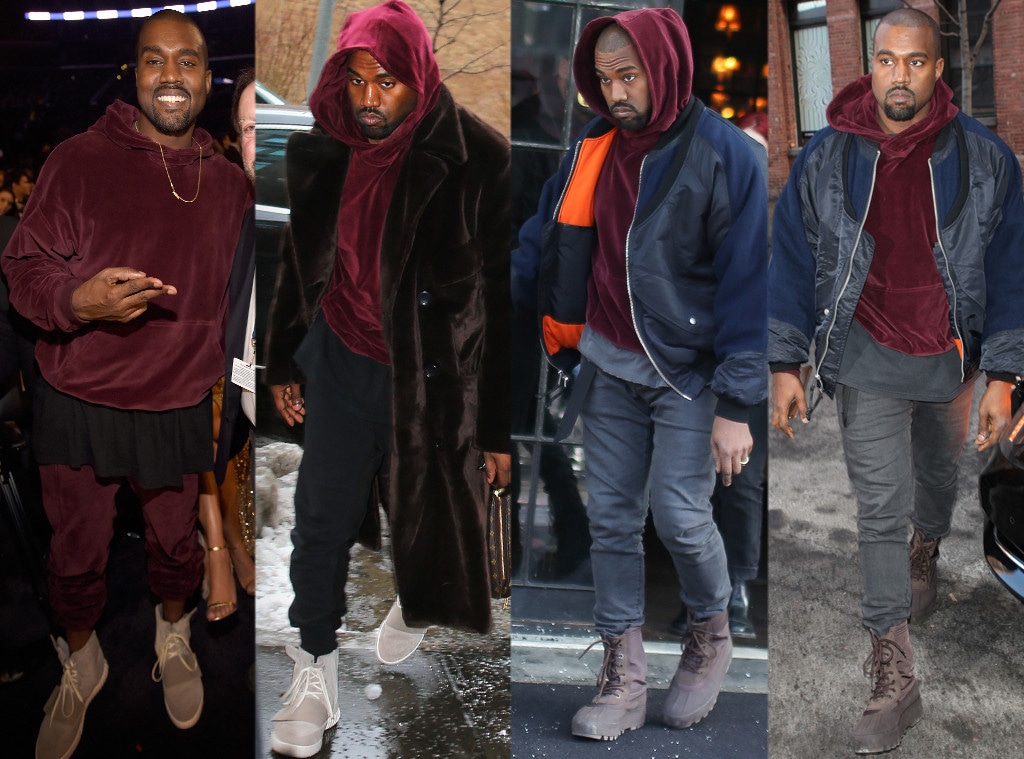 Getty Images; AKM-GSI
Wait, wait, I'ma let you finish, but Kanye West has the best burgundy hoodie of all time!
(Didn't see that one coming, right?)
The 37-year-old rapper was seen out on the streets during New York Fashion Week in what seems to be his go-to uniform: Bomber jacket, dark pants and combat boots or sneakers. But the most omnipresent part of his look is the...fuzziest? Kanye has been sporting the same burgundy hoodie for days now—even wearing what seem to be identical outfits on Tuesday and Wednesday. (Well, can you blame him? NYC is cold and velour is warm and comfy.)
Craig Barritt/Getty Images
We have to wonder why we didn't see some form of Ye's ubiquitous hoodie on the rapper's own runway: Kanye made his big New York Fashion Week debut for his Yeezy Season collaboration with Adidas Originals, and the star power in the room was, well, quite impressive. The front row lineup included Rihanna, Russell Simmons, Beyoncé, Sean "Diddy" Combs, wife Kim Kardashian (with a slightly fussy—but still incredibly adorable—North West) and, of course, Vogue's Anna Wintour.
North made another front row appearance with mom and dad at the Alexander Wang show, to watch her aunt Kendall Jenner hit the runway in some serious goth-meets-grunge duds. (For a rundown on all of Kendall's fashion week walks, look no further.)
And just when we thought the burgundy hoodie might be retired for the week, Kanye made another appearance in his most-loved velour on The Breakfast Club radio show this morning. During the hour, Kanye gave what may have been some, er, accidental scoop about his protégé Tyga's alleged courtship with sister-in-law Kylie Jenner. He also opened up about Kim's relationship with Beyoncé:
"They love each other. They respect each other," Kanye said. "When Beyoncé was working on her album she had pictures of Kim on the wall because Kim represents powerful women."
Aw. Kanye showed a lot of love for his lady during the interview—and we imagine Kim loves her man (and his burgundy hoodie) just as much.