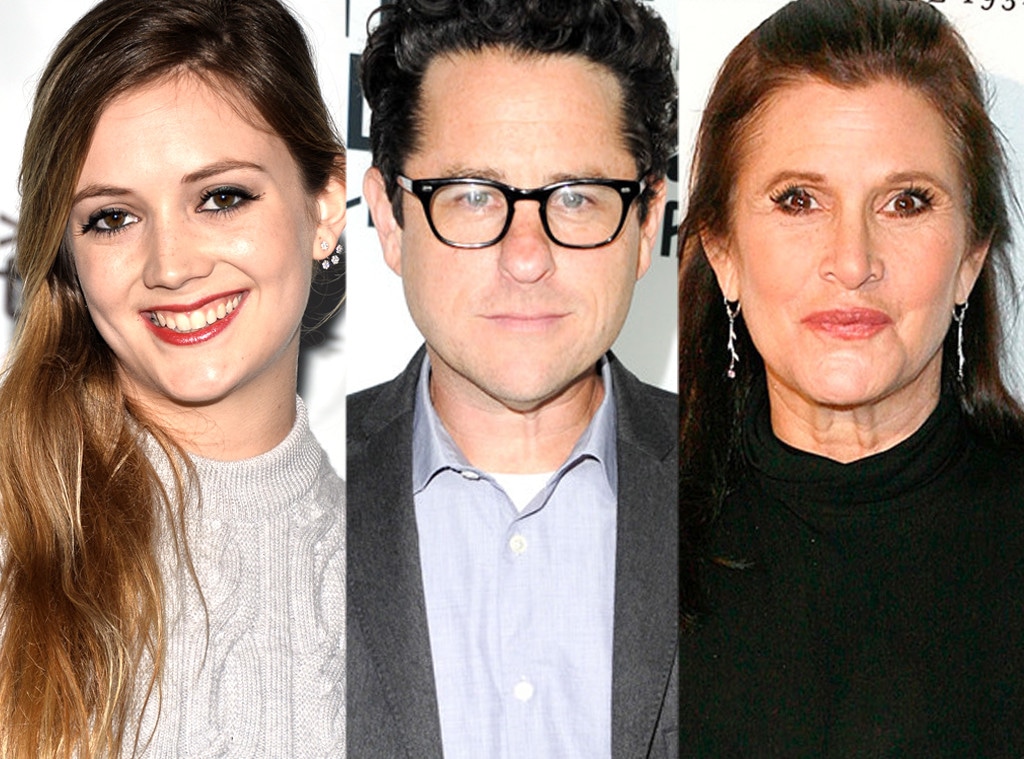 Getty Images
It's no secret that filming for Star Wars: Episode VII - The Force Awakens is well underway, and as expected, fans are dying for secrets from the set. 
Directed by J.J. Abrams, the forthcoming flick stars original castmembers Harrison Ford, Carrie Fisher, Mark Hamill, Anthony Daniels and Peter Mayhew and will also see newcomers such as John Boyega, Daisy Ridley, Adam Driver, Oscar Isaac, Andy Serkis and Domhnall Gleeson. 
Fisher is reprising her role as Princess Leia and her daughter, Billie Lourd, is on board for a secret role, and while you may not know the name Billie Lourd quite yet, it's safe to say Fisher's daughter is officially a rising star. 
PatrickMcMullan.com via AP Images
"Billie Lourd, come on! She came out of nowhere, right?" Abrams joked to E! News at the 10th annual Oscar Wilde Awards, where Fisher was honored last night at the director's Bad Robot studio. 
Asked how it's been working with both Carrie and her daughter, J.J. had nothing but praise to share for the 58-year-old actress. 
"When you invite Carrie, they just all come," he quipped before adding, "It's great. I mean she is spectacular and as funny as you could imagine and a real treat to work with as well." 
As for Billie, who also just joined Ryan Murphy's upcoming television horror comedy series Scream Queens? 
"I've known Billie since she was six or something," the director said of the 22-year-old beauty. "So to see her...I can't believe that she's this young woman who's clearly going into the stratosphere." 
During the event's green carpet, E! News also had a chance to chat with Fisher, who admitted she has yet to see the latest Star Wars trailer—"That makes me bad!" she exclaimed—after revealing how she helped her daughter prepare for her big acting debut. 
"I gave her acting lessons," the mother of one, who walked the carpet with her French bulldog Gary, said before joking, "I don't act well, I give acting lessons—this is an ad." 
Stephen Fry presented Fisher with her honor at the annual event, which also saw celebs such as Stephen Colbert and Mark Hamill in attendance.