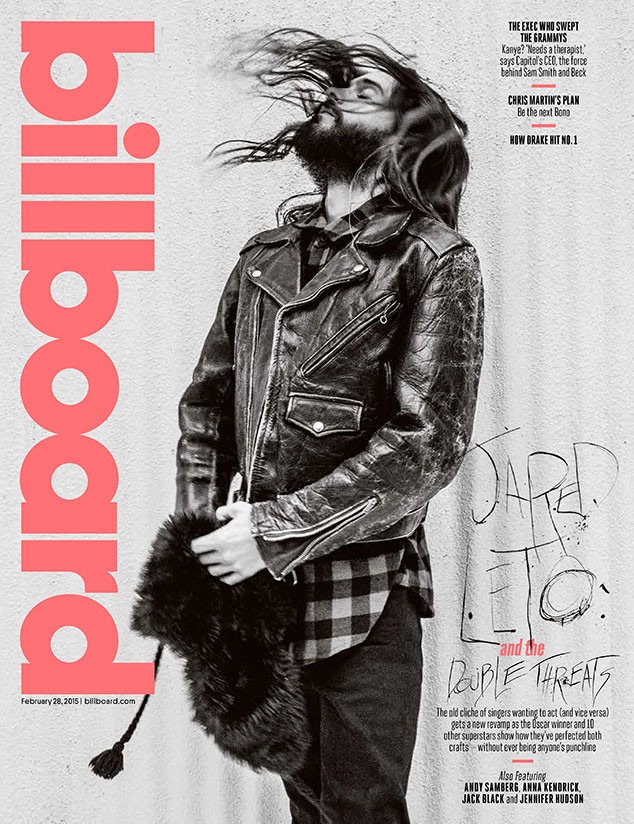 Billboard
Jared Leto is about to undergo another total body transformation!
In 2012, the actor lost between 30-40 lbs. to play Rayon, the real-life AIDS patient in Dallas Buyers Club. The role earned Leto, 43, the Academy Award for Best Supporting Actor in 2014 (co-star Matthew McConaughey took home the Best Actor award), but he hasn't acted in a movie since then.
Leto starved himself to play a junkie in 2000's Requiem for a Dream, and he later gained more than 60 pounds to play John Lennon's assassin, Mark David Chapman, in 2007's Chapter 27. "It can be an incredibly rewarding, but also destructive, thing to do," he confesses. "Your body changes forever."
When actors call him for advice on losing/gaining weight, he says, "I always try to talk people out of it."
Leto will soon begin filming Suicide Squad, set for an Aug. 5, 2016 release date. To prepare for his role as The Joker, the actor is doing the exact opposite of what he did for Dallas Buyers Club: he is eating. A lot.
"Do you mind if I eat a little?" the actor asks in Billboard's Feb. 28 issue, on newsstands now. "I'm trying to gain a lot of weight. It means I have to eat every couple of hours—and I'm terrible at eating a lot."
(The 30 Seconds to Mars singer ate vegan tacos during the interview, which aren't high in fat.)
Leto will share the screen with Jai Courtney (Captain Boomerang), Cara Delevingne (Enchantress), Margot Robbie (Harley Quinn) and Will Smith (Deadshot). Tom Hardy had to drop out as Rick Flag because of scheduling issues with his film The Revenant. Warner Bros. has not officially named his replacement. On Wednesday, The Wrap reported Friday Night Lights' Jay Hernandez is in negotiations.
The Joker has been played by many actors over the years, including Cesar Romero in TV's Batman (1966-1968), Jack Nicholson in Tim Burton's Batman (1989) and Heath Ledger in Christopher Nolan's The Dark Knight (2008). Leto says he couldn't turn down the opportunity to play one of Batman's biggest baddies.
"The opportunity to take on this nearly Shakespearean character—that's what graphic novels and comic books are becoming, right?" he asks. "[He's] this beautiful disaster of a character. What a big challenge."