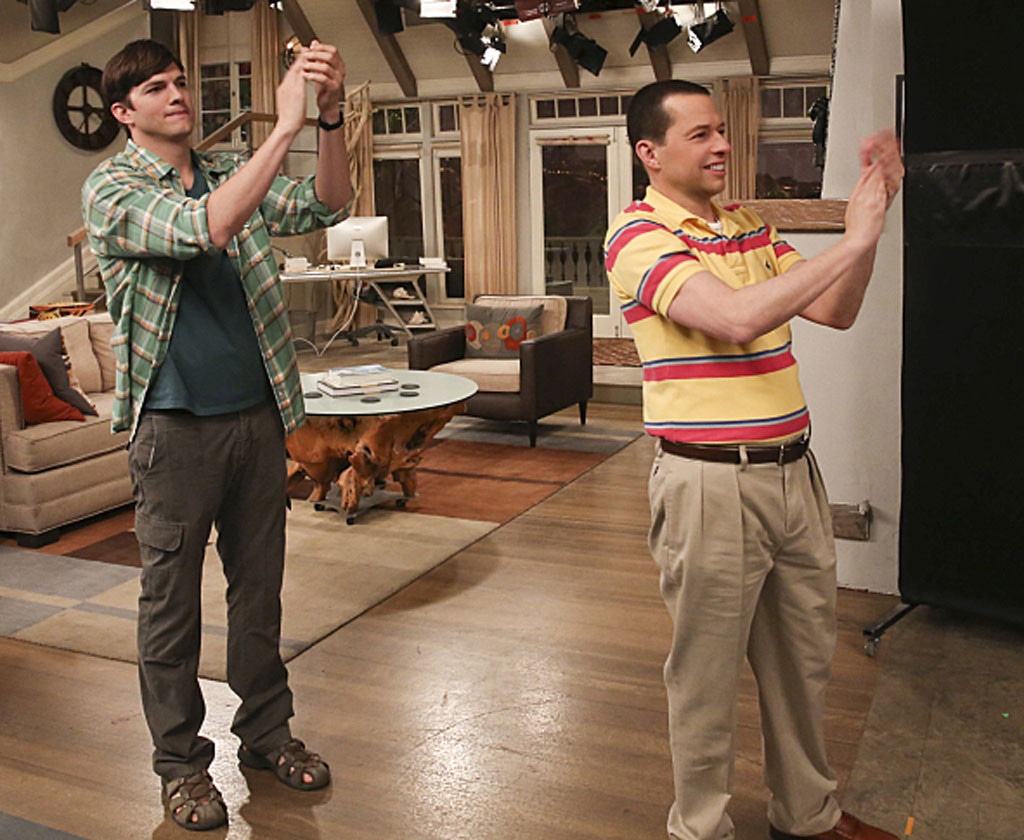 Michael Yarish/Warner Bros. Entertainment Inc
Gonna be honest, that was fun.
If you guessed that Charlie Harper, television's most infamous asshole, was never actually hit by a train in France, you would be sorely correct. He's actually been in a pit in Rose's (Melanie Lynskey) basement in Sherman Oaks this entire time, plotting an eventual escape via a bowling shirt rope and an open window in order to exact revenge on Alan (Jon Cryer) and Walden (Ashton Kutcher) for moving on without him.
Part of his revenge involved dividing his two and a half million dollar music royalties up among those closest to him, minus Alan, but including Charlie's daughter Jenny (Amber Tamblyn), his ex Chelsea (Jennifer Taylor), and…his nephew Jake (Angus T. Jones), who now looks a bit like Jesus and is apparently married with step kids.
The episode was filled to the brim with both returning characters, cameos (John Stamos, Arnold Schwarzenegger, and Christian Slater!) and glorious meta jokes, including Berta suggesting that if Charlie is still alive, he should move in with Walden and "we can keep this going for another five years."
Charlie spent the episode terrorizing his brother and his brother's roommate/ex-husband with texts, emails, signs, and cardboard cutouts hanging from nooses, which led Alan and Walden to start making amends with everyone they've ever known and loved, including Judith (Marin Hinkle), Kandi (April Bowlby), and Bridget (Judy Greer), who is now having sex with John Stamos. 
Michael Yarish/Warner Bros. Entertainment Inc
Charlie then apparently drugged Christian Slater and left him as bait for police (led by Lieutenant Wagner, played by Arnold Schwarzenegger), which allowed Alan, Walden, and Berta to believe they were free for cigars on the patio, only to then see a helicopter approaching with a piano delivery.
We thought the show might end with their tragic piano death, but there was a twist coming! The piano instead landed on a Charlie-esque man who had just rung the doorbell. The camera pulled back to reveal creator Chuck Lorre sitting in a director's chair before he turned to the camera to grin and say, "Winning."
Of course, another piano fell right on top of him, and the show was over after twelve long seasons.
Charlie Sheen never showed up, but we didn't think he would, especially after his comments on Twitter earlier today. Sheen wrote: "Attention World: If you're looking for my much anticipated cameo on network TV, you'll have to check out The Goldbergs, Wed Feb. 25th on ABC! I go where the love is. #OfcourseI'mnot."
Yeah, the love was not on Two and a Half Men tonight, but the funny was. We laughed, and really that's all you can ask for sometimes. 
Two and a Half Men Series Finale