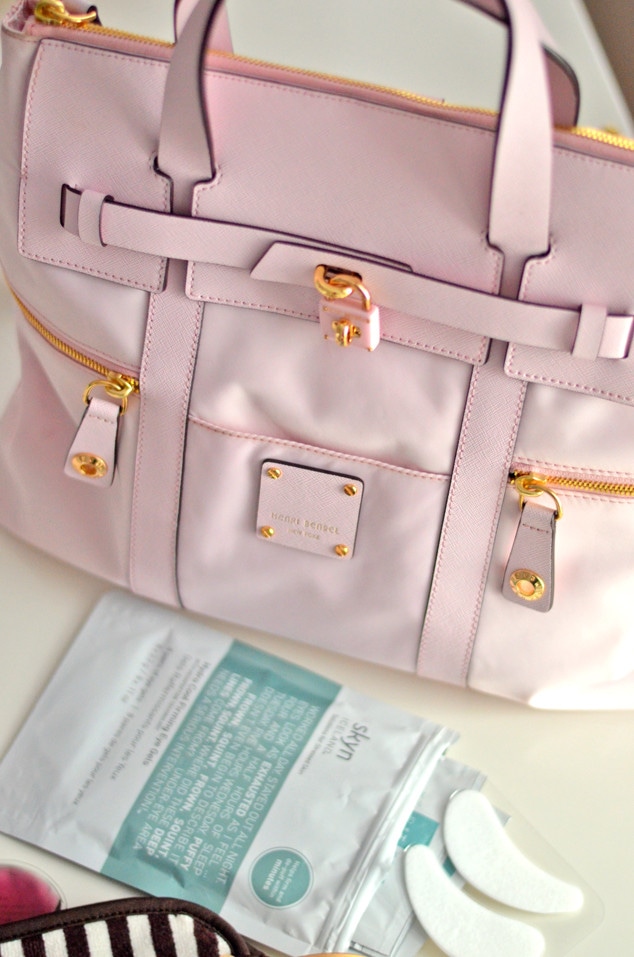 Karina Lopez
Karina Lopez, E! Style Collective's on-the-ground fashion week correspondent, shares the latest style scoop.
Just because NYFW is almost over, doesn't mean the glorious month of fashion is. London, Milan, Paris, here we come…with the chicest survival bag you ever did see!
While it's one of the most exhilarating months of the year, a fashion week may also be one of the most exhausting. It's not an exaggeration when we say most of us have to give ourselves pep-talks to prepare for back-to-back shows, events, meetings and everything in between. Now don't get us wrong, we're certainly not complaining, but every girl, whether she be at fashion week or not, should always has her go-to products.
A big bag that also serves as a backpack—this Henri Bendel piece has more pockets than we know what to do with!
Endless amount of sunglasses! Independent brands like Blood & Tears have a great mix of retro and aviator.
Hydration is a huge deal. Aside from always drinking water, start each day with my Skyn Iceland under-eye gel patches and end the day in a Susan Ciminelli hydrating gel mask topped off with a cooling eye mask. Skin takes a toll with the freezing temps and long days, after all.
"The first thing I do when I arrive in New York for Fashion Week is head to Duane Reed and buy bottle and bottles of water for my hotel room, my handbag, my coat pockets," added Lynsey Eaton, co-founder of Tomboy KC. "If I don't stay hydrated the wheels start to fall off pretty quickly."
A good watch is also an necessity for making sure you are on time to each show. Reebok carries ones that both compliment your outfit and also keep you on schedule.
As for beauty, a handful of lip colors are a given; however, this Marc Jacobs gloss and Dolce & Gabbana lip stick are go-tos. We can't forget the amazing app, PRIV, that literally allows you to book anything from hair, makeup, nails to spray tans and massages from the comfort of your home. Think on-demand beauty, which is necessary, especially in these frigid temps.
"My skin has not been reacting well to this cold, and the only foundation that has gotten me through NYFW is Bare Escentuals Complexion Rescue!" said blogger Lara Eurdolian.
Don't forget hand sanitizer—do you know how many new people you meet and hands you shake?!
Of course, an E! press pass, portable chargers, flats, band aids, Advil and tissues are all also essential.
Hey, a properly stocked bag can combat any fashion fatigue!