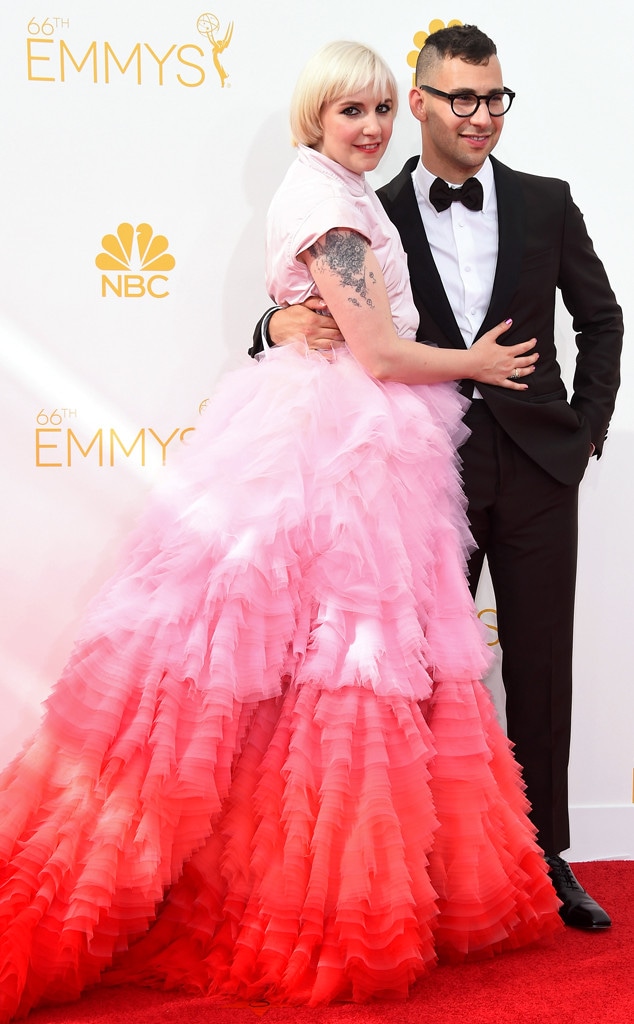 Frazer Harrison/Getty Images
Jack Antonoff may not open up much about his personal life, but when he does, the musician is gushing about his leading lady Lena Dunham.
"We've been together for over two years, which for me is a long time, and I still want to know everything about her," Antonoff told The Times during a recent interview. "That's what falling in love is. You're wrapped up in a mystery novel, lost in an exciting world."
He added, "When I get home from the studio Lena's the first person to hear anything and I can tell if something's good or not by her reaction. We both work so much, chip away at things for so long, that its not like we get over-sensitive. We're not 19. We can take criticism. I love criticism from her."
Swoon times a thousand.
While marriage may seemingly be the next step for the self-professed mellow lovebirds, the lead guitarist of the indie rock band fun. admits that they have talked about tying the knot, although they have no plans to wed any time soon (something Lena has made clear in recent months, too).
"I think all people in relationships that last longer than a year start talking about that stuff," he explained during another interview last year. "It's hard to imagine when the right time is because things are so crazy at the moment."
Still, the songwriter is "desperate" to have kids and simply states, "It just seems like the most fun thing in the world...I've never met people who have kids who haven't looked me in the eye and been like, 'It's the greatest thing that's ever happened.'"
As for the timing? "I think it's biological," he adds. "I'm 30. I'm not that young, right? I'm not, like, 24 or 22. I'm no longer in the phase of my life where I talk about everything as in the future. Like, I'm in the future."