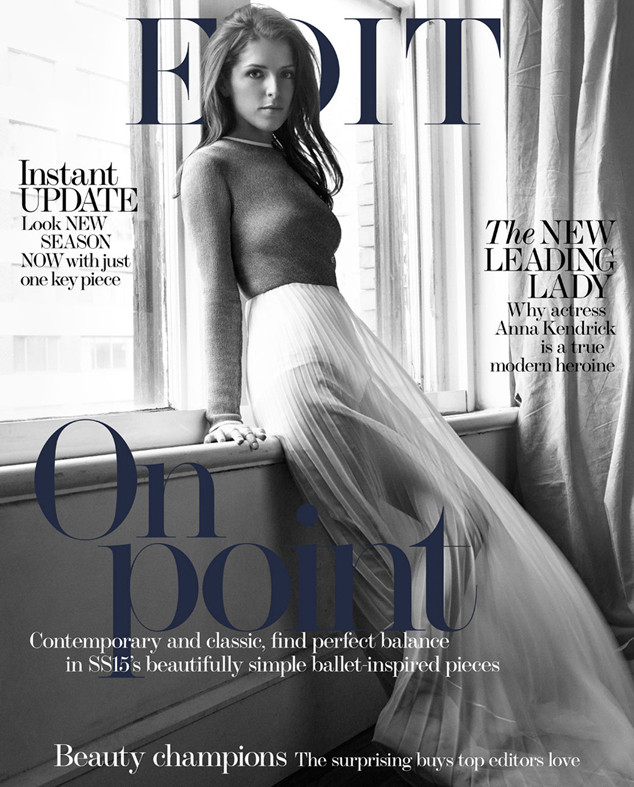 Victor Demarchelier/The Edit
Anna Kendrick would prefer to be unattractive.
Well, not technically, but she would like it if she were at the point in her career where she would be better known for her acting skills than her looks. With youth and beauty ever a constant point of pressure for Hollywood's elite, Kendrick tells The Edit that she would "really enjoy" getting roles that aren't based on somebody thinking she's "hot enough."
"I know that things will be more complicated as an older actress, in ways that I can't anticipate, but I would really enjoy getting to the point where the reason I'm getting roles or not isn't based on if somebody thinks I'm hot enough," she dishes to the magazine. "I feel like I've always been a character actress, and this is a blip in my career where I'm playing the ingénue.
"I'll be a lot more comfortable and get excited when I'm playing women who aren't supposed to be pretty," she adds.
Victor Demarchelier/The Edit
Needless to say, Kendrick stuns while dressed in ballerina-inspired designs for the magazine.
Her success has multiplied in recent years, having starred in the Golden Globe-nominated Into the Woods and now appearing in the highly anticipated Pitch Perfect 2. But the 29-year-old is keeping her fame in check because at the end of the day, she's just a normal person. In fact, her 3 million Twitter followers would be the first to know how normal she really is!
"It feels dishonest to me to let anybody in the world think that my farts smell like lavender, or something," she jokes.
But if you thought the 29-year-old star was casually executing perfect tweets, you'd be incorrect. She actually puts a lot of time and effort into those 140 characters.
Victor Demarchelier/The Edit
"I love seeing what people respond to and think is funny; it's kind of a puzzle," she tells the mag. "Trying to express yourself in 140 characters can be this little word game...Some people play Candy Crush; I try to perfect my tweets."
Hey, to each her own!
But jokes aside, the Up in the Air actress looks up to actresses and comediennes such as Meryl Streep, Tina Fey, Amy Poehler and pal Aubrey Plaza because of how "honest" they are with themselves on and off the camera.
"[My heroines tend to be] women who are willing to show themselves and be honest, and be a little ugly," she admits.
And this is why we love her.