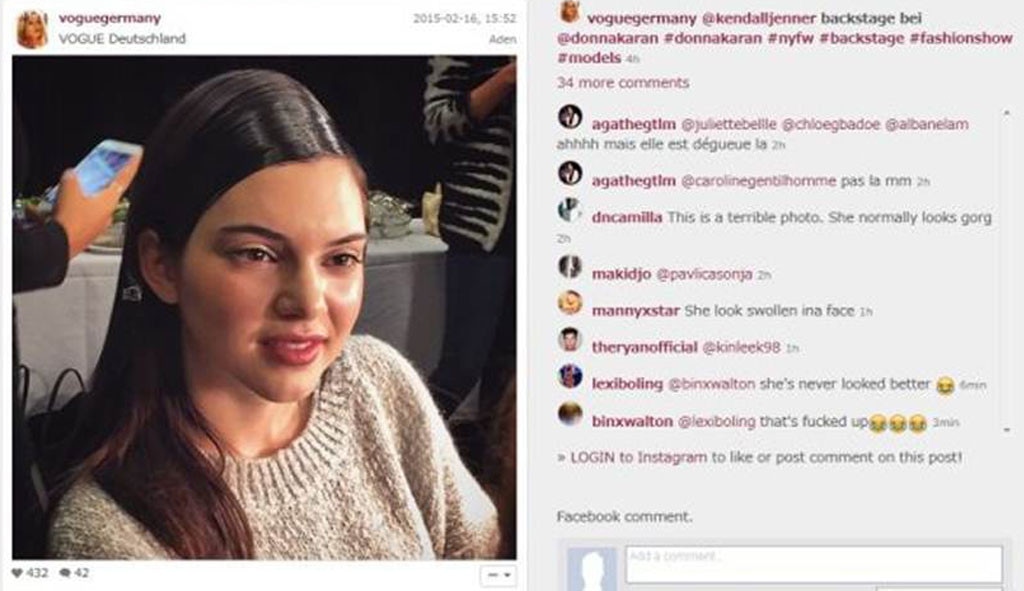 Instagram
UPDATE: Lexi Boling tells E! News (via her rep): "I wasn't thinking and made a silly comment. Kendall's had a killer NYFW. A big congrats to her!"
__________________________
Things are getting a little catty over the catwalk, guys.
It seems that two models threw Kendall Jenner some Instagram shade (ruhl mature) on a backstage beauty snapshot posted to Vogue Germany's account, as Fashionista reported. The pic shows Kendall in a makeup chair getting ready before Donna Karan's runway show (the 19-year-old sports a feminine beauty look featuring peony pink lips and eye-widening mascara). As for the comments on the post, well, those—not so nice.
Model Lexi Boling brought the photo to Teen Vogue cover star Binx Walton's attention, writing "she's never looked better" with the always subtle laughing-through-tears emoji. Binx, in response, wrote "that's f--ked up" with some laugh emojis of her own, pretty much confirming that Lexi's observation was all snark.
Binx also took to Twitter with some, er, interesting commentary after the Marc by Marc Jacobs show.
Jenner, for her part, has denied past bullying allegations, which arose last season after her much heralded runway debut. For the fall-winter 2015 collections that are currently showing at Lincoln Center (our best shows picks are here), Kendall has hit the runway for Oscar de la Renta, Alexander Wang, Michael Kors, Marc by Marc Jacobs, Vera Wang, Donna Karan and Diane von Furstenberg.
When bullying rumors came to light last year, a source close to Kendall told E! News, "If Kendall was bullied, she certainly isn't aware of it. She's too busy working hard and enjoying what she's doing."
We're guessing the same goes for this season. Keep that head high, Kendall—especially while you're killing it on the runway.
—Additional reporting by Ruth O'Neill
Keeping Up With the Kardashians Season 10 premieres March 15 at 9 p.m. only on E!