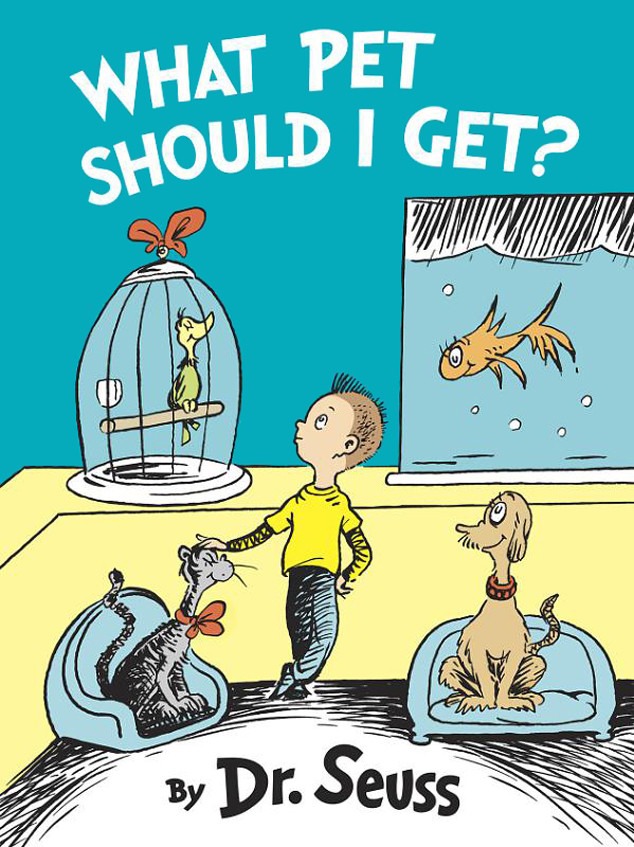 Random House Children's Books
A beloved author's spouse has discovered a treasure in her house. It was just sitting over there and now it'll be enjoyed by people everywhere.
What Pet Should I Get?, a long-lost story by the late Dr. Seuss, aka Theodor Geisel, known for The Cat and the Hat and more than 45 other classics with catchy rhymes, will be published later this year, Dr. Seuss Enterprises, L.P. and publisher Random House Children's Books said in a joint statement on Wednesday. This will be the Pulitzer Prize-winning author's first full-length picture book to be published since his 1990 story Oh, the Places You'll Go!. And it won't be the last.
Mark Kauffman/The LIFE Images Collection/Getty Images
The book, set for release on July 28, features the brother and sister characters from the writer's 1960 book One Fish Two Fish Red Fish Blue Fish and "captures the excitement of a classic childhood moment—choosing a pet," the statement said. What Pet Should I Get?'s cover features the boy and several animals in what appears to be a pet store, including a dog and, yes, a fish.
Shortly after the writer died at age 87 in September 1991, a box filled with pages of the story, What Pet Should I Get?, and accompanying sketches by Dr. Seuss, as well as more of his manuscripts, were discovered inside his and widow Audrey Geisel's home in the upscale coastal community of La Jolla, California. The house was being remodeled at the time.
In the fall of 2013, she and Claudia Prescott, her late husband's longtime secretary and friend, discovered the materials again while they were cleaning out his office space, the statement said.
"While undeniably special, it is not surprising to me that we found this because Ted always worked on multiple projects and started new things all the time—he was constantly writing and drawing and coming up with ideas for new stories," Audrey, 93, was quoted as saying. "It is especially heartwarming for me as this year also marks 25 years since the publication of the last book of Ted's career, Oh, the Places You'll Go!"
In addition to the new publication, at least two more books will be published from the newly discovered documents, the statement added. 
Random House had in recent years released several Dr. Seuss publications that were previously published only in magazines, such as Horton and the Kwuggerbug and More Lost Stories in 2014.
What Pet Should I Get? was likely written between 1958 and 1962, Dr. Seuss' former art director, according to Cathy Goldsmith, who now works as vice president and associate ublishing director of Random House Books for Young Readers, and is overseeing the editorial and creative process of publishing the story.
"My connection to Ted remains as vital as it was when we worked closely together years ago—I know he is looking down, watching over the process," she said. "And I feel a tremendous responsibility to do everything just as he would have done himself."
Dr. Seuss was a pet owner himself. He had an Irish setter dog, Cluny.