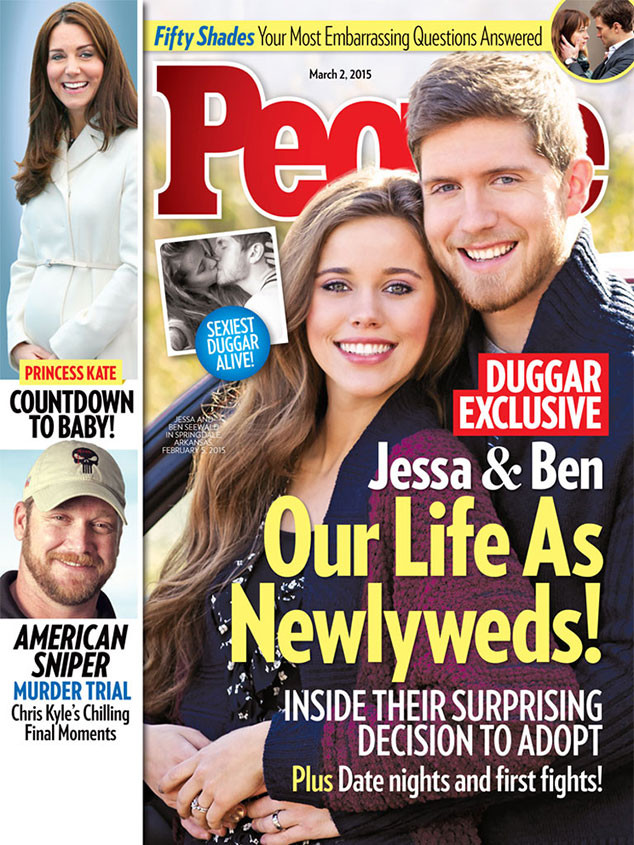 People
The Duggar dynasty shows no sign of shrinking!
In People's March 2 cover story, Jessa Duggar and Ben Seewald open up about their first three months of marriage and speak candidly about their plans to start a family. "Kids are so important," Ben, 19, says Jessa, whose older sister Jill Duggar is currently expecting her first child, adds, "We hope to adopt a lot of kids. If God blesses us with biological kids of our own, it's not going to quench our desire to adopt."
"Even before we were married, we wanted to adopt," Jessa adds.
Still, the pressure to procreate is inescapable. During a recent visit at her parents' home in Springdale, Ark., Jessa's 6-year-old sister, Jordyn Duggar, wanted to know if a baby was on the way. "She asked if I was pregnant, and I said, 'No, I'm not,'" Jessa, 22, recalls. "And then she said, 'Well, you look pregnant!'"
Ben sympathizes with his wife. "We fight about this. Jessa thinks she's fat, but she doesn't remember all the times people tell her that she looks great," he says. "Her sister is used to people in the family getting married and being pregnant right away. Of course she's going to look at Jessa and says she's pregnant."