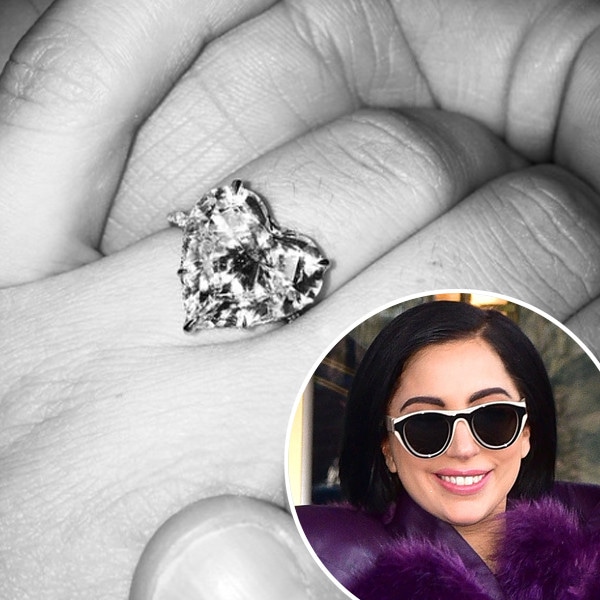 Getty Images; Instagram
UPDATE: And it looks like the heart-shaped sparkler comes from none other than jewelry designer to the stars, Lorraine Schwartz. The diamond maven posted a shot of Gaga's ring to Instagram alongside a sweet note: "Congratulations to this wonderful romantic and super cool couple! wishing you all the happiness in the world!"
Lorraine confirms she designed the ring to E! News, calling it "the most beautiful" and "high quality" diamond.
__________________________
If you don't know that Lady Gaga's engaged to longtime love Taylor Kinney by now, well, now you do!
The singer revealed the very happy news to her followers on Instagram on Valentine's Day—even more fitting because Taylor gave Mother Monster—what else—a massive, heart-shaped diamond.
We're so intrigued by Gaga's new sparkler (seriously, we haven't seen heart bling that impressive since Titanic) that we asked jewelry experts to weigh in. First things first—how big?
"Lady Gaga's center stone is a heart-shaped diamond, approximately 6 carats," said Zaven Ghanimian, CEO of Simon G. Jewelry. "I would estimate at least SI1 clarity or better, G color or better​​. For a stone of this size and quality, the price could be up to $400,000. The setting looks to be a simple solitaire with pavé diamonds down the side."
Pascal Mouawad of Mouawad Jewelers, agrees with Ghanimian on the sparkler's size range: "Looks like a 6-carat plus heart-shaped diamond," Mouawad said. "If it is in the colorless range and is very slightly included, it would retail for about half a million dollars."
Wowzah! But really, we wouldn't expect any less for Gaga. The singer was most recently spotted at John F. Kennedy Airport sporting her new blunt bob (and yes, that hair is all her, ladies and gents) printed trousers and a chic gray-and-white colorblock coat. Her heart ring was hidden by a coat sleeve—but no matter, we're sure there will be plenty of bling sightings to come from Mother Monster.
All in all, the ring seems like a romantic (and rather tame) choice for the star, who may be saving the wild for her wedding gown.
What do you think of her heart-shaped diamond?