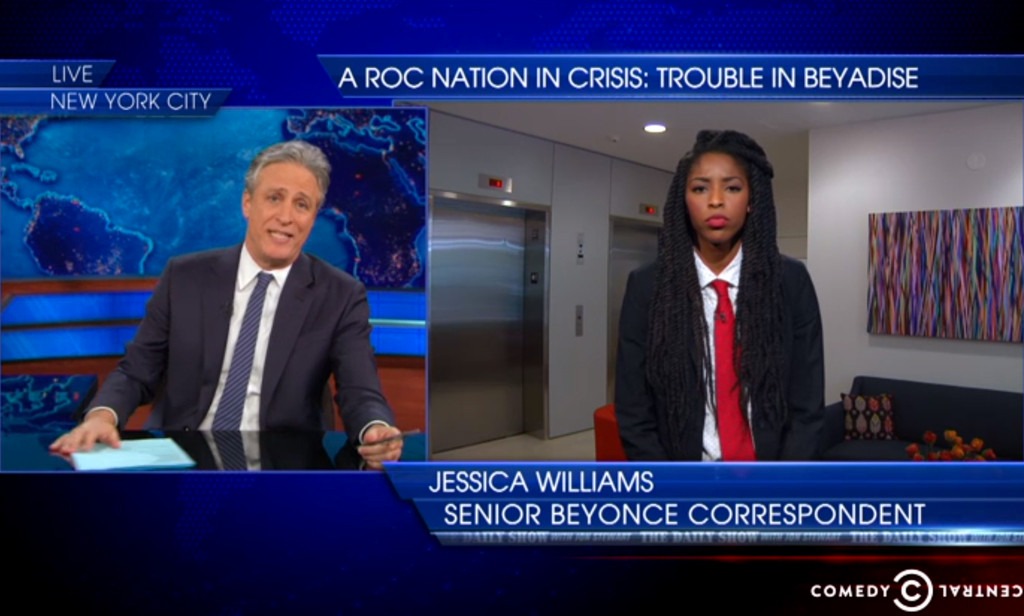 Comedy Central
Guess we can check another name off the list!
After Jon Stewart made his shocking announcement last week that he would be retiring from The Daily Show, fans of the show immediately began thinking of possible replacements for the late-night host. Not that he could ever be replaced of course, but you know how viewers get.
One name that has been brought up in several conversations is Senior Youth Correspondent and Beyoncé superfan Jessica Williams.
So…is she interested in the gig?
"Fact 1: I'm not hosting. Thank you but I am extremely under-qualified for the job!" she tweeted Sunday night. "At this age (25) if something happens politically that I don't agree with, I need to go to my room & like not come out for, like, 7 days."
She continued, "That being said I am super not right for it, but there are quite a few people who are! Can't wait to stick around & see what happens." Aziz Ansari, Tina Fey, Amy Poehler and Amy Schumer are just some of the notable names that have also been brought up.
Stewart announced he would be stepping down last Tuesday to the complete surprise of many viewers. Luckily, fans can still enjoy his hosting duties until the end of the year.
"Jon will remain at the helm of The Daily Show until later this year," Comedy Central revealed in a statement to E! News. "He is a comic genius, generous with his time and talent, and will always be a part of the Comedy Central family."
While the waiting game continues for a new host, Williams would be lying if she said she wasn't grateful for all the love from followers.
"Thanks to everyone tweetin at me," she wrote. "This is the beginning of my career. I'm gronna troll that ass for yrs." Good to know, girl!