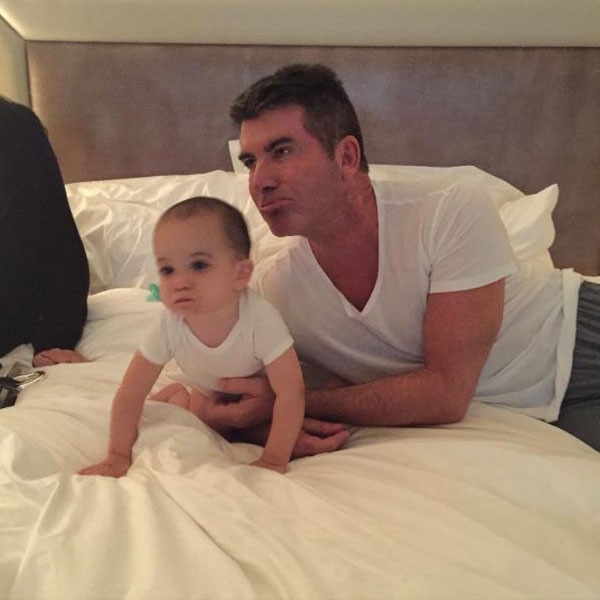 Twitter
Simon Cowell has ensured that all of his Valentine's Days from here on out will be filled with that loving feeling.
Son Eric turns 1 on Feb. 14 and Cowell, who can't believe an entire year has gone by since he welcomed his first child, says that fatherhood just keeps getting better for him.
"I love being a dad," the British mega-producer and TV personality exclusively tells E! News. "It's been easy and I cant believe its a year already. It's gone by, like, snap, but he's a fantastic little boy."
Eric's mom is Cowell's girlfriend Lauren Silverman.
"I had no idea what it was going to feel like to be a dad," the U.K. X Factor judge admitted, "and I was always nervous about babies. I didn't know what to do with them. But actually, when you see someone day by day becoming, you know, more smart and doing different things and recognizing you and now talking, I mean...it's an incredible feeling."
It also sounds as though Eric, like his famously discerning dad, knows what he likes—though, Cowell added, the child is "not a tough critic at the moment."
 So what has Eric Cowell's seal of approval so far?
"He does actually love music," Cowell says. "He is addicted to The Jungle Book. I have now heard 'Bare Necessities' and 'I Want to Be Like You' probably 1,000 times this year."
(Memo to upcoming X Factor and La Banda aspirants—maybe refrain from trotting out the Disney tunes on day one.)
And with Eric's birthday coming up tomorrow, of course a big party is in the works.
"Eric's having his own birthday party this year...He has given me his own invitation list and we've got about 100 people coming," Cowell revealed. "In fact, he's organized most of it himself."
We're guessing cake, "Bare Necessities" on loop and guests in V-necks?
A very happy birthday to little Eric and congratulations to the whole family on the momentous milestone!