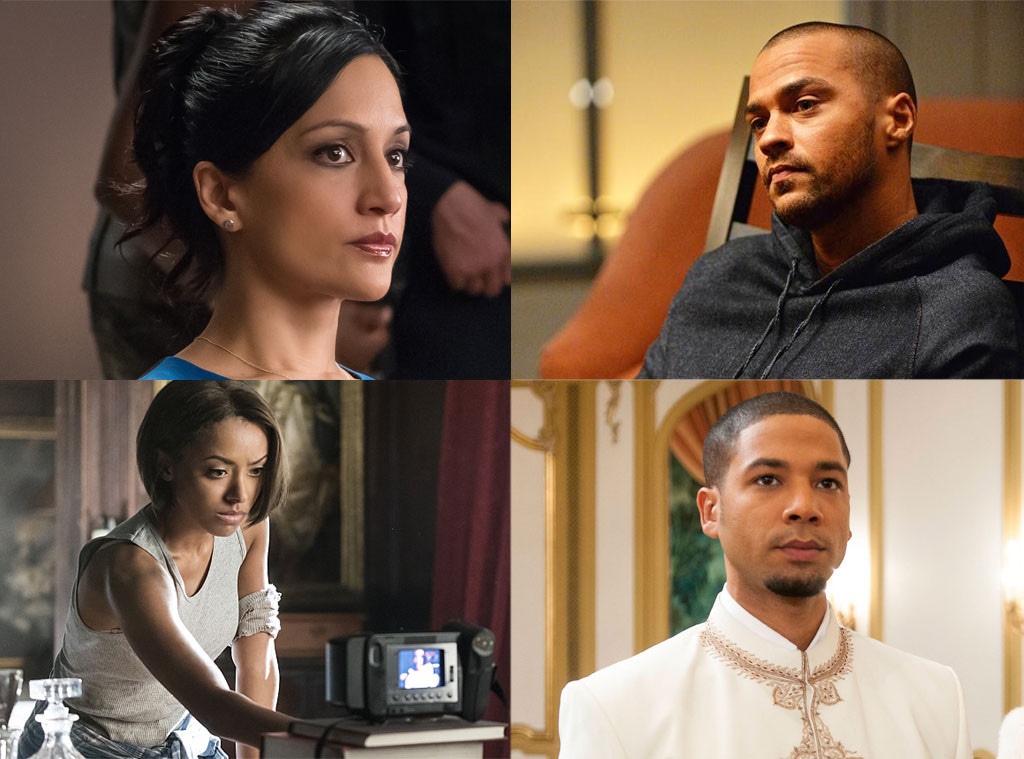 CW, ABC, FOX, CBS
Sob. Sob. Sob.
Oh sorry, didn't realize you were there. Don't mind us, we were just over here, still crying over the most recent heartbreaking episodes of Grey's Anatomy and The Vampire Diaries. Just your typical morning ritual! Fortunately, we've got scoop on what's ahead in both that should cheer up the depressed fans out there in today's Spoiler Chat, as well as juicy details on Empire's baby mama and The Good Wife's intense showdown.
Plus, we've got scoop on who is getting a new love interest on Girls, The 100's finale battle, the new season of The Following and more...
Marissa: When is Bonnie coming back on The Vampire Diaries?!
We want to know that answer, too! So we took your question straight to the TVD mastermind, Julie Plec herself, but she kept her answer frustratingly vague. (Show, why do we love you so much?!) Plec says Bonnie will be out of the prison world and back in the present "soon. I don't want to ruin anything. Soon. Very soon. You'll also see her in 1994 very soon."
Wallace: UHBSESSED with Empire! Raven Symone was so great…Any scoop?
We know you'll see her again, closer to the finale, and you'll definitely see that cute little ball of adorable (Jamal's supposed child) as well. And prepare yourself for more known faces! Jennifer Hudson, Rita Ora…and creator Lee Daniels himself tells us there are more guest stars no one knows about. "The big surprises haven't even come yet," he said. "We haven't even shot you yet with the main bullets." But we're already dead! Too much goodness.
helge14 anything on Greys? #spoilerchat
Raise your hand if you're still crying about April and Jackson saying goodbye to their newborn baby boy. "It was really intense, but also beautiful," Sarah Drew says of filming that emotional scene. "I just met someone who had been in the room with a mother who had just done the exact same thing and something about walking into the scene to shoot that knowing it had just happened to someone for real and that I could in some way honor their story was incredibly inspiring. It was heartbreaking and really emotional. When we finished our last shot, I just leaned into Jesse [Williams] and just wept in his arms."
Jeff Neumann ©2014 CBS Broadcasting, Inc.
fabcarsgirl: Anything on #TheGoodWife or #Suits would make me happy
How about this, fellow Good Wife lover? Lemond Bishop (guest star Mike Colter) starts calling in his favors with Kalinda in the March 1 episode. His first task? Well, it'll surprise you.
Jacqui: Obsessed with Girls this season! Any scoop on the girls' love lives?
Expect three of our ladies to get new love interests (all of whom are awesome) in the next two episodes. But we really only see potential in one of the pairings. 
Hillary: Dying for Nashville scoop!
Remember how Layla almost killed herself after Jeff Fordham's rejection? Looks like she's gotten over that pretty fast, since the aspiring singer is about to sign to his label!
@MariaARIS3 Really hoping you bring us some great news about how Sam is going to be the one to save Dean! #SPN #Broments
We certainly hope so, but Mark Sheppard just dropped some ominous scoop for the back half of this season of Supernatural. "We're only about halfway through the season so it's premature to talk about the third act, but I think [executive producer] Jeremy [Carver] has been diligent about making this be a personal exploration for all the characters," Sheppard says. "But there's going to be a massive cost to one and all for the journey that we've all taken in this way. For Crowley, personally, that's going to have to do with how his mom's a witch. It never goes well with witches."
Isabellag08: anything on #the100 please?
You may want to watch Ocean's 11 before tuning in for the finale, as showrunner Jason Rothenberg tells us, "It's almost like a heist movie" in that the 100 will be trying to break into Mount Weather, completely opposite from last season's finale, which found them keeping the Grounders out of the drop-ship. "We're the outsiders trying to get in to save their people on the side. It's a very different kind of battle; it's really much more complicated. It's much more complicated to break in than it is to man the wall."
@HorrorGeek333 does it look like it'll be better than season 2? #TheFollowing
The premiere alone feels like a whole new era is dawning on the Fox serial killer thriller, from new love interests to new threats plaguing the city. But at least Ryan Hardy and Mike Weston's bromance is something we can all count on, as something—or rather, someone—from their past returns for revenge and to expose the truth about a secret they've been keeping from everyone. Only time will tell if The Following will be better than last season, but we can confirm that it's darker, more twisted, frightening and nightmare-inducing as ever…watch this one with the lights on, people.
Stephanie: Can we get The Originals scoop please?
Get ready for a new dynamic between Elijah and Klaus in the wake of Hayley's wedding! "I can't speak enough of Joseph Morgan and Daniel Gillies and their performances coming up," executive producer Michael Narducci says. "They are going to explore the question of what a family owes each other and what family obligations necessitate in episodes coming up. We're beginning to see a new dynamic in the Klaus/Elijah relationship and that's going to affect us for a long time to come. It's going to have longstanding effects."
Maria: I love how Rose is Sin Rostro on Jane the Virgin! I never saw that coming.
Neither did Sin Ros(e)tro herself, Bridget Regan! "I really thought I was this former lawyer/trophy wife who's now an interior decorator for her husband's chain of hotels. I was playing into that," Regan says. "The only note [showrunner] Jennie [Urman] gave me when we started was that my feelings for Luisa were 100% real. As the season progressed, I started to get these little tiny hints in the script and I started to suspect that Rose has ulterior motives. And then Jennie told me and I read 'Chapter 12' and I just about died. I was so thrilled!"