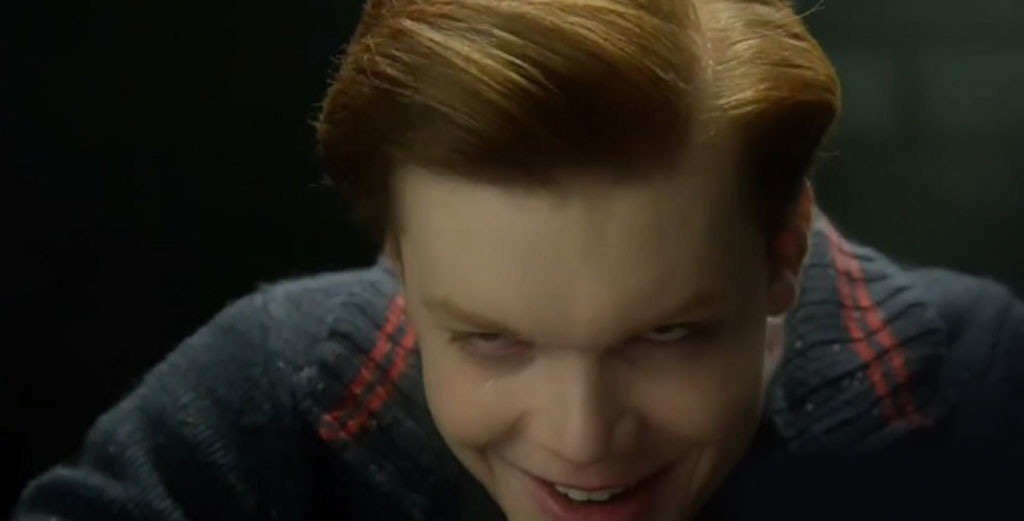 FOX
Gotham threw viewers for a major loop when, in a teaser after last week's episode, Shameless star Cameron Monaghan showed up, laughing maniacally with a trademark smirk that could only mean one thing...
The Joker is coming to Gotham!
Or is he? We got executive producer Bruno Heller on the line to grill him over whether or not Monaghan's character "Jerome" is really the Joker...or just a trick designed to get more viewers.
Check out our full Q&A below to find out the answer!
E! Online: That teaser definitely set the fandom on fire. You know the one. It had a little something to do with the Joker…
Bruno Heller: [Laughs] I'm glad to hear it. That's always the intention of those teasers. We've got such gold to work with in the source material. It's fun to goose the audience in those ways.
So what can you tell me about who Cameron Monaghan is playing in the episode, "The Blind Fortune Teller?" Is he the Joker?
I can tell you this is a long game plan and a long story that we are telling here. What I can promise you is this is not a bait-and-switch. This is not someone who is just a character who is going to disappear. This is not a red herring. It's the beginning of the story of how the Joker came to be, how the Joker was created, where he came from, who he is. Now, that doesn't necessarily mean that Cameron Monaghan is the Joker. He might be. But like I say, this is a story that begins about seven or eight years before the actual Joker arrives on the scene in his fully-fledged persona. As we're telling with all of these characters, the origin story of that villain begins Monday.
Hmmm...
[Laughs] Is that clear but ambivalent enough?
Detailed and yet oh-so-vague. Nicely done.
Good! Like I say, I want to reiterate for those fans who might think that we are playing games, this is not a game. This is not a trick. It's the beginning of the Joker saga.
I know you've been dropping little fun Easter Eggs here and there for the Joker so why did you decide to start introducing this storyline now?
It just seemed like the right moment in the season to, as the season is moving towards its conclusion and as we are setting up for next season, this just seemed like the right moment. Early on, it would have been a mistake. We had other stories to tell and we wanted this season to be about the emergence of the Penguin and Gordon's rise. This appearance of Cameron is the beginning of the third act that will lead us toward the next chapter.
How does Jerome first come into contact with Jim [Ben McKenzie]?
This is an episode about the circus, which will kick off the Robin saga, the Dick Grayson storyline. Jerome is someone who works at that circus. This is a standalone episode that speaks to the future.
What was it about Cameron that made you want to cast him in the role? His work on Shameless?
Oh, he was just the best young man that came in! He gave a performance that was very much himself but also had echoes of all the other great people who have played that familiar persona and character—although I'm not saying he is that character! He just hit the mark and gave us chills in the audition. He did something that was both familiar and strange.
Gotham airs Mondays at 8 p.m. on Fox.