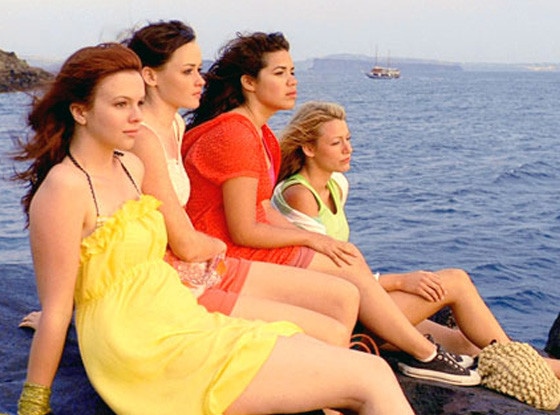 Warner Bros. Pictures
Let us all join hands and give thanks: There's going to be a third Sisterhood of the Traveling Pants movie.
Or at least that's the rumor. 
America Ferrera, who appeared in the first two flicks alongside costars Blake Lively, Alexis Bledel and Amber Tamblyn, went on the Meredith Vieira Show today and announced that a script is in the works. And, if fan obsession is any indication, there's a good chance it's going to get made.
But before things go too far, we have a few suggestions for the lucky screenwriter. Since this is going to be the final installment of the Traveling Pants series—Ann Brashares, author of the original books, doesn't plan to write any more—the emotional stakes are high. This last flick needs to give us everything we've been missing since the 2008 sequel.
Also, heed this warning: If you haven't read the fourth book, Sisterhood Everlasting, turn away now as there will be spoilers.
5. Lots of screen time in Greece. For those of us who've never been to Santorini, we've been living vicariously through Sisterhood scenes for years. In fact, whenever we daydream about jetting off to the islands, we picture Alexis Bledel riding that donkey. A few gratuitious shots of the gal pals cliff diving is all we're asking for.
6. A few nods to Gilmore Girls and Gossip Girl. When two of your movie's stars just so happened to front two of the greatest TV dramas in history, you've got to give a couple winks. We're all about movie easter eggs, so we'd love the occasional "XOXO" or bar of  "Where You Lead" slipped into the script.
7. Nudity. Sisterhood Everlasting takes place a whopping ten years after Forever in Blue (the tome on which the second flick was based), so there's no beating around the bush: The four friends are grown women. Grown women who have sex. Preferably, sex that takes place onscreen. What a way to go out with a bang (anybody? Anybody?).
8. They find the damn pants. When we last left Carmen, Tibby, Bridget and Lena, they had traveled to Greece to track down the infamous pants. (A catch-up: Lena's little sister, Effie, brought them with her on a family trip to the homeland and subsequently misplaced them. Look alive, Effie.) What a great way to round out the movie trilogy—the missing pants return to their rightful owners! Plus, pants that still miraculously flatter four women after 10 years, some of whom have had children? Now those are some magic pants.