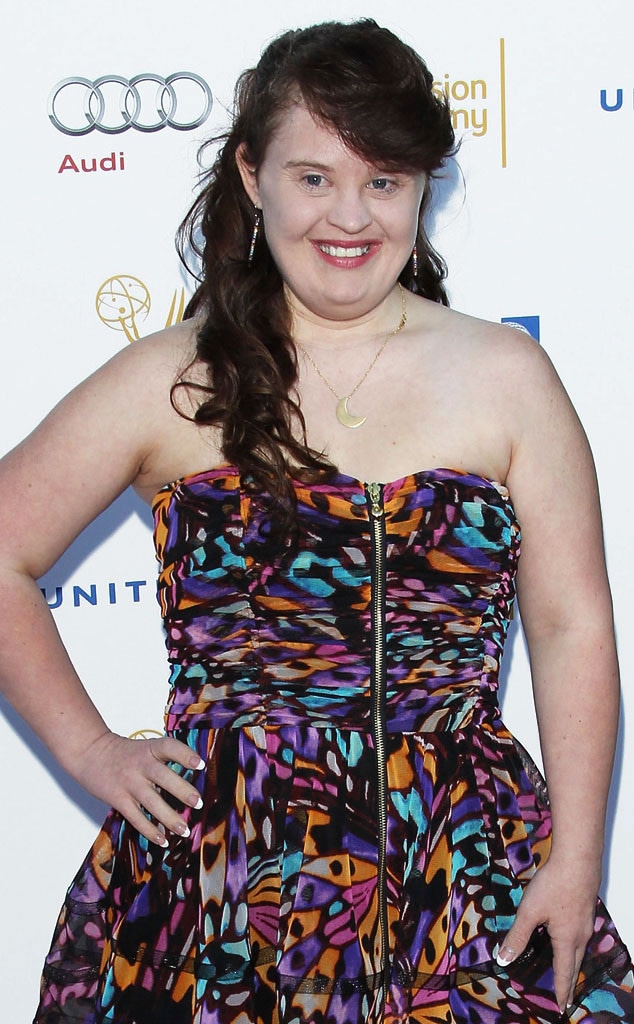 Michael Tran/FilmMagic
This is Jamie Brewer—an actress (known for her work in American Horror Story), model, and now, runway pioneer.
Once New York Fashion Week kicks off tomorrow, Brewer will not only be rocking an original design by Carrie Hammer, but she will be breaking boundaries and setting an amazing example by becoming the first woman with Down syndrome to strut the catwalk.
"Young girls and even young women...[see me] and say 'hey, if she can do it so can I,'" Brewer, who has also worked as an advocate for people with intellectual disabilities, told Today. "It's a true inspiration being a role model for any young women to [encourage them] in being who they are and showing who they are."
Brewer is modeling as part of Hammer's "Role Models Not Runway Models" campaign, which the designer started when she was first asked to show her line at Fashion Week a year ago.
"I called up my existing clients who were all incredible women and one of them happened to be a doctor and a sex therapist who happened to be in wheelchair," Hammer told Today. "It was never intended to be this incredible statement."
But it definitely became one, and that sparked an incredible new approach to something that's been around for years. Hammer credits one specific email she received after the fact from Katie Driscoll, co-founder of Changing the Face of Beauty, a nonprofit that encourages media to include people with disabilities, and mother of a young girl named Grace, who also has Down syndrome.
She wrote: "Thank you for being the change that is long overdue. I could literally cry every time I read an article talking about your decision to include a model who just happens to have a disability! YOU are what this world needed!"
Hammer asked Driscoll to suggest a good role model for her daughter, Grace, and Brewer's name came up. "I explained to her how important it is for my daughter to have role models like [Brewer] to see that [anything] is possible," Driscoll said.
As for what Hammer is creating for Brewer's runway look, she tells Today that she's coming up with something inspired by Jamie's character in AHS.
"American Horror Story is dark, scary, bewitching so we had to go with black and Jamie has a beautiful body with a teeny waist and curves and we went with an A-line," she says.
"It's amazing, it's really neat," Brewer said. "Many women have many sides to their personality, this dress fits...mine. I am honored to be in it."