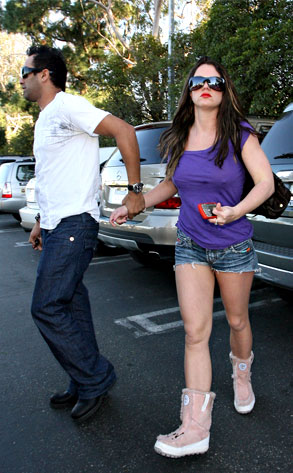 FAME Pictures
Bargain shopping, wardrobe changing, paparazzi fighting, British-accent talking, dining out—it all sounds like a typical Britney weekend to us.
The pop tart, her pap boyfriend and a buzzing swarm of photogs hit up Rite Aid, DSW, Macy's and See's Candy yesterday. Unfortunately, this was one of Britney's off days, so she wasn't exactly her usual welcoming self with the 'razzi.
After hours with cameras in her face, not saying a word, just head down, shielding her face with her cell phone and clutching the hand of her new boy-toy Adnan, Brit snapped. Entirely in British accent, she told the paps: "I'm f--king over it! Get out of my goddamned face!"
While just a few weeks ago, Adnan may have been part of the mass following Britney, he had no problem switching places from hunter to prey and throwing a few elbows in the process.
Just watch. First, the man forgets his roots, next he'll be releasing an embarassing hip-hop track...we guarantee it.
See Brit's day of Brit fun play out in the clip below, and stay tuned to see if she ever shows up for the custody hearing her lawyers have "strongly advised" her to attend.