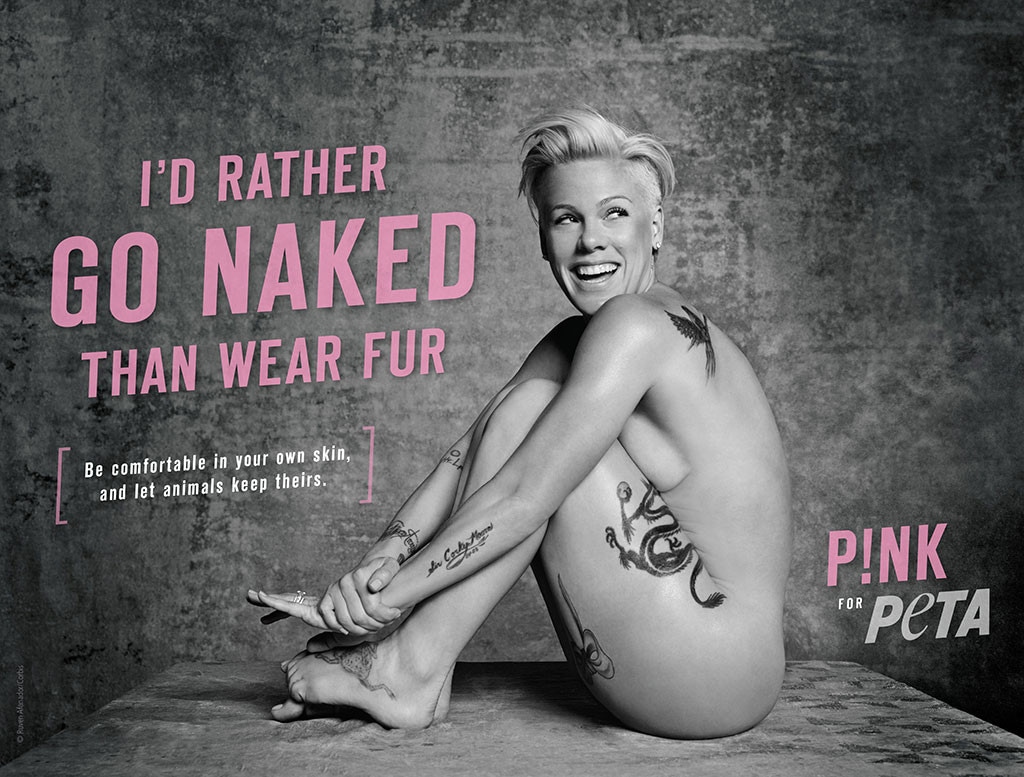 PETA
Well, this is guaranteed to stop traffic!
Pink appears nude in a 90-foot PETA billboard in New York City's Times Square. The ad will be erected on 42nd Street, between 7th Ave. and 8th Ave., Wednesday night—the eve of New York Fashion Week.
The pop star posed in the buff for photographer Ruven Afanador.
"I would like to say I've always been fur-free," Pink, 35, tells E! News in a statement. "Unfortunately, I went through a selfish phase and wore fur on a couple of occasions. But I wised up and now boycott fur completely. I wish everyone was forced to learn the horrors that these animals go through for fashion trends. I hope fur-wearers get bitten in the ass by the same kind of animal they wear on their back."
Pink is also encouraging people to take the pledge to be fur-free.
The "Just Give Me a Reason" singer is the latest celebrity to be featured in PETA's "I'd Rather Go Naked Than Wear Fur" campaign. Previous participants include Bethenny Frankel, Khloé Kardashian, Joanna Krupa, Nia Long, Holly Madison, Eva Mendes, Olivia Munn, Christian Serratos and Wendy Williams.
"I've always felt that animals are the purest spirits in the world," Pink told Us Weekly. "They don't fake or hide their feelings, and they are the most loyal creatures on Earth."
Previously, Pink teamed up with Ricky Gervais to lend her voice to a video for PETA, "Stolen for Fashion." The clip featured a computer-generated alligator and a rabbit and targeted animal skins.