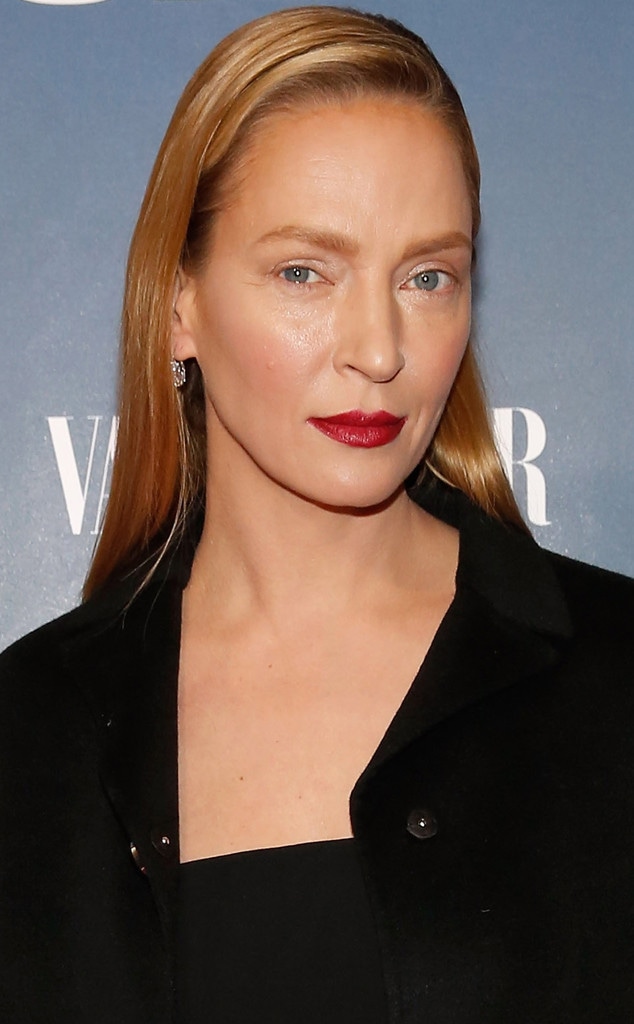 Robin Marchant/Getty Images
Something looks different here...and we can't quite put our finger on it.  
Uma Thurman stepped out on Monday to attend the premiere party for her new miniseries The Slap in NYC, where the 44-year-old star turned heads—and is making headlines today—due to her apparent new look. 
Wearing bright red lip stick and minimal eye makeup, the Kill Bill beauty posed for pics in an all-black ensemble, flashing a subtle smile while showing off her very smooth skin. 
After the images first surfaced, fans quickly began commenting that the Pulp Fiction star looks different, due, in part, to her nearly fresh-faced appearance, however, a source simply tells E! News, "It was just a fun and different makeup choice. Nothing else, just a slow news week."
Only seeming sporting bold lips and skin-smoothing foundation, the mother of three did not wear any mascara and failed to highlight her pretty blue eyes while rocking bold, filled-in eyebrows, which appear to be slightly bleached. Additionally, Uma, who typically rocks bangs, wore her hair slicked back in a sleek style. 
Thurman was last seen on the red carpet in late January, and less than four months ago, she brought her 16-year-old Maya Thurman-Hawke to the NYC premiere of the Theory of Everything, where the mother-daughter duo stole the spotlight with their look-alike appearance. 
The former model stars in the forthcoming NBC miniseries—which centers on a once-happy family that begins to fall apart after a man slaps another family's misbehaving child—alongside Zachary Quinto, Thandie Newton and Melissa George. 
Premiering on Thursday, The Slap marks the Golden Globe-winning stars return to the boob tube after briefly stepping away from the spotlight following the birth of her third child, Luna, in July 2012. 
"I actually find work can be quite relaxing," she previously told Britain's Stylist magazine. "When the children were little I wasn't able to work like I did before. So now, when I do it's very much like, 'This is good, this is my time.'"