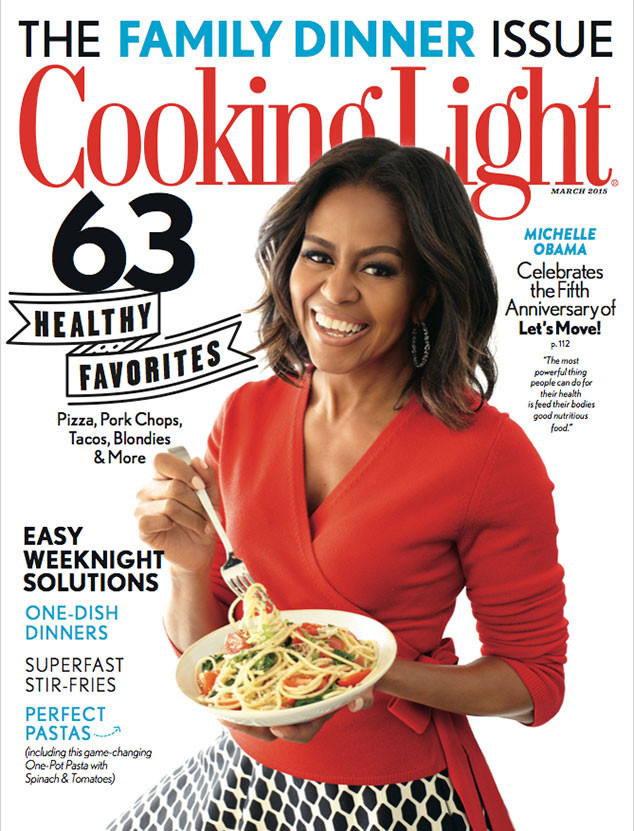 Cooking Light
Michelle Obama has made history yet again!
The First Lady of the United States is the first person to cover Cooking Light in the publication's 28-year history. Michelle, 51, appears in the March issue, where she reflects on the five-year anniversary of her Let's Move! campaign, shares her hopes for the future and opens up about life inside the White House.
"We're really proud of the changes we've seen across the country—most proud of the fact that it feels like there's a new norm in how families think about food and what's healthy," Michelle says. Still, the Princeton University alum admits that there have been challenges along the way. "Change is hard for anybody. And when you're talking about food, food is really personal. So when you're telling people to rethink their dietary habits that they've lived with all their lives, it's really personal," FLOTUS explains.
How does Michelle measure the success of the Let's Move! campaign? "We measure this in terms of a generation," she explains. "So we're looking at those kids who are coming into kindergarten right now, who are coming out of preschools who have now adopted new standards, and they're serving different snacks...We're looking at that kid going through high school and then entering college with a whole new set of habits and taste buds." Since its launch in February 2010, Michelle says that the most "impactful things" the campaign did are reflected in "changes in the school lunch program. I mean, millions and millions of children rely on the school lunch program for the vast majority of their nutritional calories."