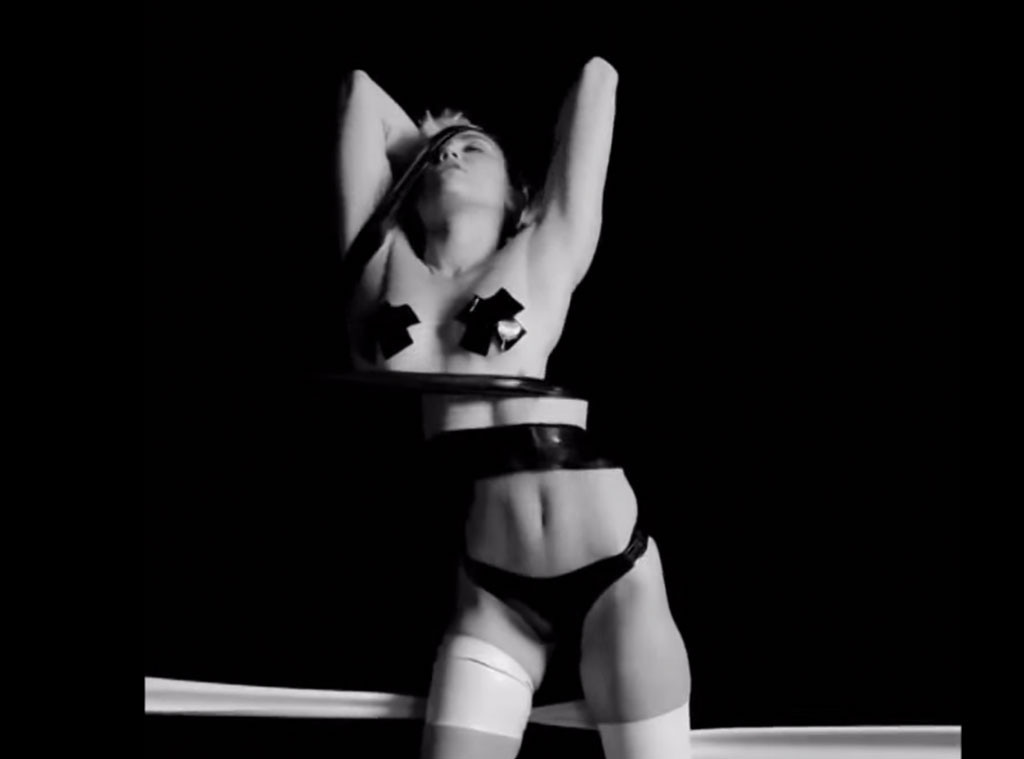 Youtube
UPDATE: Cyrus' rep tells E! News, "Miley was proud to make a film with acclaimed filmmaker Quentin Jones. Neither she nor Quentin are participating in this 'festival' in any way."
__________________________________________________________________________
Miley Cyrus has entered the world of pornographic films—no, not like that.
The singer reportedly submitted her short video "Tongue Tied" into the New York City Porn Film Festival, which begins in Bushwick on Feb. 27. The 4-minute and 30-second clip shows the sexual singer flaunting her body in black underwear, fishnets and black tape on her bare breasts while swaying in compromising positions.
And if the artsy black and white video seems familiar fans, it's no coincidence. This is the same video that played as a show intro before Cyrus took the stage during her Bangerz tour.
The bondage film shows Cyrus hanging from suspended ribbons like an acrobat before she's shown hanging up-side-down from one line almost naked. Later in the video, Cyrus cries black tears with oil painted over her eyes. She also smears the black oil all over her chest, breasts and stomach.
"It's a pop take on S&M," festival founder Simon Leahy reportedly said. "She's starting to become more of a contemporary artist."
"Miley Cyrus wears that bondage lightly. And literally. She stretches the definition of kink, making it pop. On stage, riding a giant hot dog, she grins like the girl who yells loudest in the 'penis!' game. She could stop, actually, if she wanted to...but she won't. She wears her latex like she's dressing up as herself for Halloween: 'I'm a Sexy Mily Cyrus! What are you?'" Sarah Nicole Prickette, editor of ADULT magazine, said of the film.
E! News has reached out to the film festival for comment.