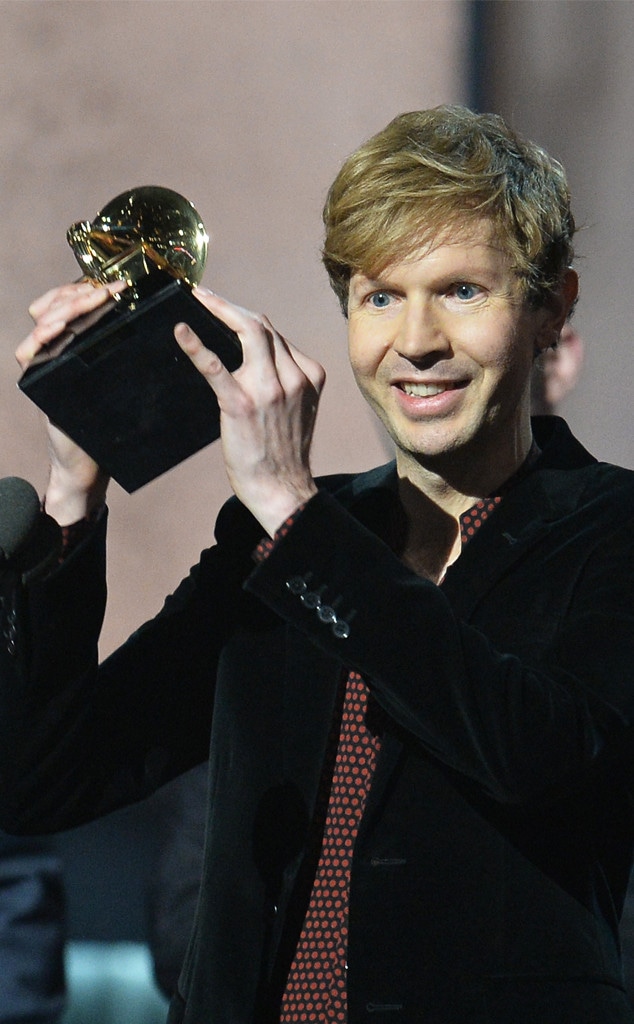 ROBYN BECK/AFP/Getty Images
Not even Beck predicted he would win Album of the Year at Sunday's Grammys.
So, imagine his surprise when Kanye West jumped onstage to jokingly steal the award on Beyoncé's behalf. "I was so excited he was coming up! He deserves to be on that stage," said Beck, who also won Best Rock Album. And, like West, the "Blue Moon" singer predicted Beyoncé would take home top honors. "Absolutely I thought she was going to win," Beck said at a Universal Music Group after-party.
"Come on!" he added. "She's Beyonce!"
West, 37, told E! News that Beck, 44, "should have given his award to Beyoncé."
However, the "Waking Light" singer wasn't offended.
"You can't please everybody. I still love him and think he's genius," Beck told People. "I aspire to what he does. How many great records has he put out in the last five years, right?"
Though Beck has been nominated for 16 Grammys, he hadn't won an award since 2000. West has won 21 Grammys since 2005. He and Beyoncé have earned 53 nominations each, coming in behind Chick Corea (61) and John Williams (61), Georg Solti (74) and Quincy Jones (79).
Watch:
Kanye West Goes on Another Rant at Grammys After Party
When West stopped by the E! After Party Sunday, he went H.A.M. on Beck and the Grammys.
"I don't know what he said. All I know is if the Grammys want real artists to keep coming back, they need to stop playing with us. We ain't gonna play with them no more. 'Flawless,' Beyoncé video. Beck needs to respect artistry and he should have given his award to Beyoncé, and at this point, we tired of it," the "Love Lockdown" rapper lamented. "Because what happens is, when you keep on diminishing art and not respecting the craft and smacking people in the face after they deliver monumental feats of music, you're disrespectful to inspiration and we as musicians have to inspire people who go to work every day and they listen to that Beyoncé album and they feel like it takes them to another place."
West continued, "Then they do this whole promotional event, they'll run the music over somebody's speech, the artist, because they want commercial advertising. Like, no, we not playing with them no more. By the way, I got my wife [Kim Kardashian], my daughter [North West] and my clothing line, so I'm not going to do nothing to put my daughter at risk, but I am here to fight for creativity. That's the reason why I didn't say anything tonight. But you all know what it meant when 'Ye walks on the stage."
Sunday marked the first time in six years that West had appeared at the Grammy Awards. He performed "Only One" and joined Rihanna and Paul McCartney ofor "FourFiveSeconds."
(E! and Universal Music Group are both members of the NBCUniversal family.)