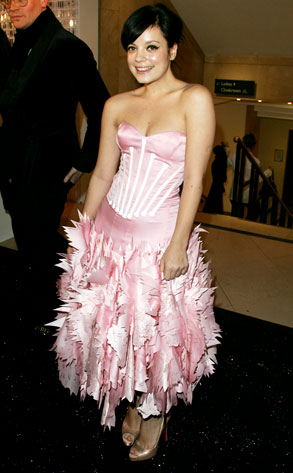 Eamonn McCormack/WireImage.com
• Lily Allen is also pregnant. Despite only being with her boyfriend since September and getting photographed smoking last week, the news still pales in comparison to Jamie Lynn's oopsie.
• Tony Parker is prepared to take legal action against x17online.com for not laying off the affair rumors. Mr. Eva Longoria "adamantly and unconditionally denies ever having laid eyes" on the French vixen who insists they knocked boots.
• Lindsay's got a new BFF that she takes out to parties and holds hands with. Her name's Courtenay Semel, and they may even be roommates. Did you hear that cry of pain far off in the distance? That was Samantha Ronson.
• Tim Burton celebrated the birth of his new daughter by gifting baby mama Helena Bonham Carter four pairs of lace-up biker boots. If that doesn't quite register with you, it's kind of like that time Jessica Seinfeld gave Oprah 21 pairs of Louboutins, but for Goths.