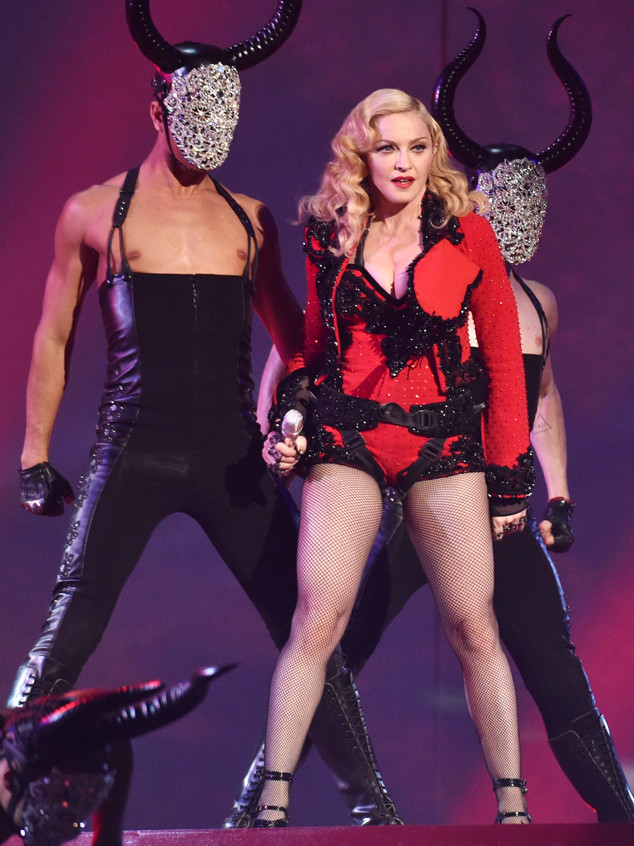 John Shearer/Invision/AP
Yep, she's still got it. 
With seven Grammys under her belt, the 56-year-old singer proved she can put any newcomer to shame when she took the stage at the 57th Annual Grammy Awards tonight, wowing us all with a performance of her hit "Living for Love." 
Bringing her sexy (and semi-shirtless!) minotaurs along for the show (anyone else have an American Horror Story: Coven flashback?!), the Queen of Pop killed it as she channeled her inner matador in a tiny red leotard that showed off her ripped and seriously insane bod. 
And is it just us, or did you totally want to get up and dance when Madge hit the chorus of the song and started breaking it down with her dancers?! 
Of course, the entire audience was on their feet, clapping to the catchy tune when a choir joined the singer on stage for what may just been one of the best moments of the show. 
From back flips to being lifted by a harness in the air, it was clearly Madonna's moment to shine—and she was loving every minute. 
The iconic hitmaker appeared at the Grammys last year, bringing along son David as her date before later performing her hit "Open Your Heart" alongside Macklemore and Ryan Lewis, who sang their hit "Same Love" while Queen Latifah officiated the marriages of 34 couples on stage. 
ROBYN BECK/AFP/Getty Images
The "Like a Virgin" singer's performance comes just two days after the recording artist released the music video for the first single from her upcoming 13th studio album Rebel Heart, which is due to hit airwaves on March 6. 
Any doubts age ain't nothing but a number? Just take another peek at Madge's biceps.