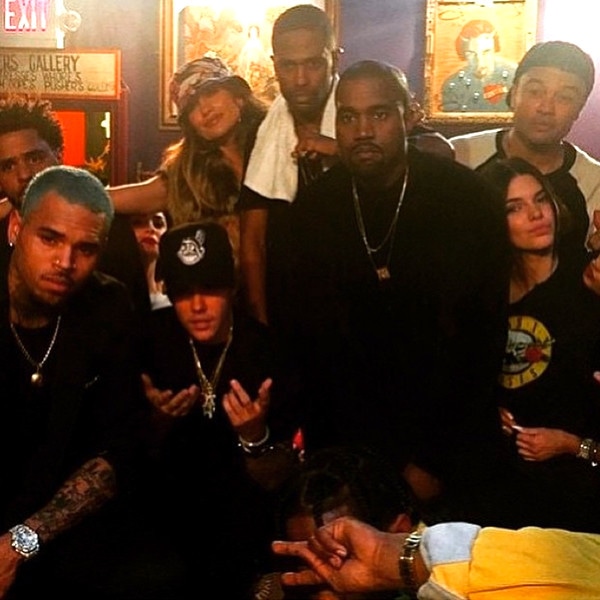 Instagram
It's almost time for another major award show, which only means one thing...another epic celebrity ensemble party photo!
Unlike Ellen DeGeneres' now-famous 2014 Oscars selfie, this pic was snapped before the big event, the 2015 Grammys. On Saturday, Jennifer Lopez, Kendall Jenner, Demi Lovato, J. Cole, Kanye West, Justin Bieber, director Alfredo Flores and Chris Brown all hung out with Big Sean at the House of Blues concert venue and nightclub in West Hollywood, California, where the latter hip-hop star, known for his hit "I Don't Give a F--k About You," had performed a show.
J.Lo posted a pic of the group on her Instagram page. Jenner, in full rocker mode, sported a Guns N' Roses shirt.
Lovato, who channeled Where's Waldo?, shared the pic on her own account.
She and Lopez also posed for a separate selfie together. "House of Blues... #bigSean #Idontgiveaf--kaboutyouoranythingthatyoudo." J.Lo wrote.
Big Sean was clearly moved by the massive show of celebrity support.
Bieber shared on his Instagram page a couple of pics of himself with Big Sean and West.
Big Sean's girlfriend, Ariana Grande, was not spotted. That day, she was rehearsing for both her upcoming The Honeymoon tour and for Sunday's 2015 Grammy Awards. West is also performing at the event, along with Rihanna and Sir Paul McCartney.
J.Lo's star-studded photo joins the ranks of not only DeGeneres' Oscars pic (which you voted best celeb selfie of 2014), but also Taylor Swift's 25th birthday photos, which featured the likes of Justin Timberlake, Beyoncé and Jay Z and was taken at an after party at her New York home following the 2014 iHeartRadio Jingle Ball.
Bey and Jay also hung out with West earlier on Saturday at a pre-Grammys brunch in Beverly Hills. The latter hip-hop star arrived with wife Kim Kardashian, who turned heads with a red mermaid princess-like outfit.
The 2015 Grammy Awards air live on CBS at 8/7c. Watch celebrities arrive on the red carpet, on the E! Online livestream, starting at 5:55 pm ET/PT, and on TV—the live Countdown to the Red Carpet pre-Grammys show airs on E! from 4-6pm ET/PT, followed by Live From the Red Carpet: The 2015 Grammys, beginning at 6pm ET/PT.
Plus, watch a special-edition of Fashion Police: 2015 Grammys on Monday at 9pm ET/PT on E!